6 Conversion Rate Optimization Tips for Your Furniture Ecommerce Store
By Blueport Team Aug 28, 2023 9:21:49 AM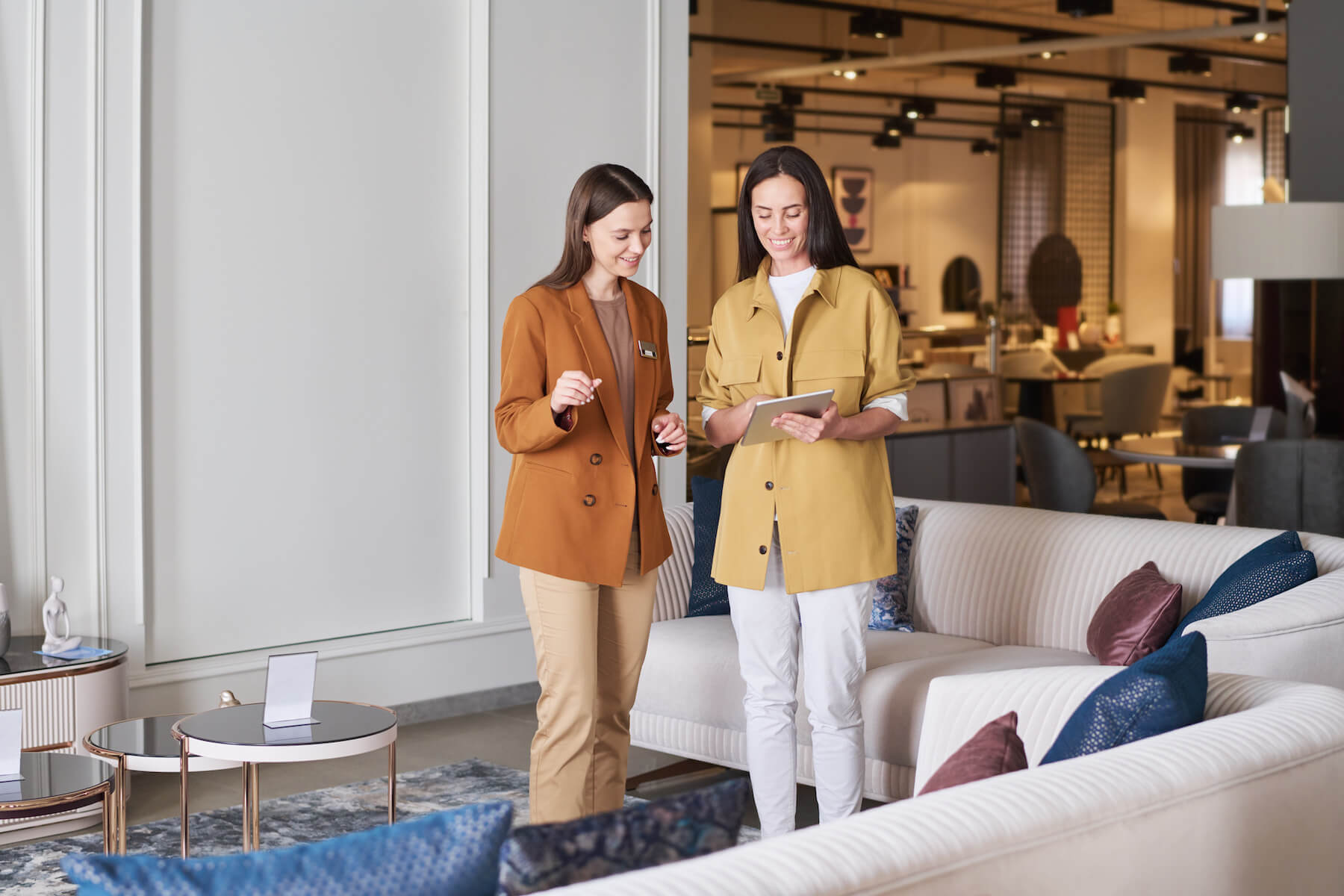 Leveraging data is critical in order to enable businesses to pinpoint areas of opportunity as well as measure success.
Whether you're an online furniture merchant or a furniture retailer with both online and physical stores, conversion rate is one metric you can track and analyze to grow your business.
What Is Conversion Rate Optimization?
A conversion rate is the proportion of website visitors that complete a specific action. Conversion rate optimization, or CRO, is the process of increasing the conversion rate.
Conversion rate tracking can provide valuable insights into how marketing and website initiatives are helping to drive sales. For example, a high rate may indicate that your marketing efforts are driving high-quality traffic, the shopping journey is well-designed, easy to navigate, and ultimately customers are finding and buying what they are looking for. A conversion rate drop can indicate that you aren't attracting the right consumers to your site so your traffic is composed of visitors who won't purchase. Additionally, there may be design and site functionality improvements that may help improve the conversion rates.
Although the furniture ecommerce conversion rate tends to be lower than you might see reporting from other industries, marketing CRO efforts producing even a slight improvement can significantly increase your revenue.
6 Ways To Optimize Furniture Ecommerce Conversion Rates
Here are six CRO best practices to improve your conversion rates.
1. Drive qualified traffic to your site
Driving qualified traffic to your e-commerce site is crucial for increasing conversion rates. The key is not just to attract traffic but to attract the right kind of traffic — those who are or could be genuinely interested in purchasing your products. The end result will be higher conversion rates both in-store and online.
Refining your marketing practices can attract the right shoppers to your site. For example, using search engine optimization (SEO) best practices and Pay-per-click (PPC) marketing both play a role in driving qualified traffic.
In addition, leveraging positive reviews and ratings build trust and credibility, attracting users who are more likely to convert. This type of social proof is best managed with an ecommerce platform with native features and third-party integrations that enables you to seamlessly collect and respond to customer feedback.
Remember to include your in-store sales in your review process and share all positive reviews on your social media channels.
2. Optimize Content and User Experience
If shoppers are bouncing out of your website without making a purchase, you may find that your content or user experience (UX) has opportunities for improvement. Pay extra attention to mobile, which is where the majority of your online traffic is likely being generated.
When shoppers land on your site, evaluate the content and experience they see. For example, if they're shopping for outdoor products, are they seeing relevant outdoor or summer merchandising, promotions, or marketing content?
Further, thoughtful UX design can ensure visitors are finding the information they need, exploring more products, discovering promotions and sales, and learning about delivery and shipping methods. This can result in an increased session duration — the time a shopper spends on your site — which can correlate with increased revenue on both desktop and mobile devices.
3. Display Real-time Product, Price, and Delivery Information
Accurate and complete product information can help drive conversion rates. For example, indicating whether each product is in stock or out of stock, including regular and sale prices, and showing detailed product details such as dimensions and unique features can help customers decide to make a purchase.
To ensure shoppers have accurate and current information that is consistent with your in-store shopping experience, your online store must be connected to your furniture ERP. Displaying your full range of products — along with alternate groupings, configurations, variants, and more — allows shoppers to find the products they want while correct pricing and delivery information can help close the sale, improve your conversion rate, and increase your RPV.
4. Offer Intelligent Search and Sort Tools and Product Recommendations
Merchandising is a core marketing strategy and is just as important online as it is in your local stores. A key element of online merchandising is known as "searchandising", providing intuitive search and sort tools that let online shoppers find relevant products quickly and easily, increasing your conversion rate.
You can increase your RPV even more when you combine those search and sort tools with a sophisticated product recommendation engine that displays related products that you customize or are personalized for each shopper.
5. Highlight Promotions
Just as more in-store sales are closed using thoughtful promotions, furniture ecommerce conversion rates can be improved in the same way. Because you may run complex promotions, a furniture-focused platform will let you create, schedule, and manage online promotions, including combining promotions and excluding others.
On your website, make sure you display promotional details on your homepage, on product pages, and at check-out.
6. Optimize Checkout
Shopping cart abandonment is common across all ecommerce industries but is even higher in the home & furniture industry. Optimizing your checkout page and process will reduce your cart abandonment rate and increase your conversion rate.
Here are the two most significant ways you can optimize checkout. First, streamline the checkout process, reducing extraneous steps that don't provide value to the shopper or your business. Then, make sure the process provides the information needed, such as pick and delivery timing and a clear order summary that shows all fees.
Even after optimizing checkout, you'll likely still have abandoned carts. Implement an intentional process to win them back. Between refinements to customer checkout and an abandoned cart workflow, you should see conversion rate improvements.
Furniture Ecommerce CRO for Today's Omnichannel World
Leveraging these five tips for optimizing sales conversions and RPV will increase your ecommerce revenue, and few conversations about furniture ecommerce are complete without addressing the connection between online and local sales. Ecommerce CRO tactics offer the added benefit of driving in-store traffic.
Shoppers often research furniture online and then travel to a brick-and-mortar store to see the products in person. An optimized user experience with easy search and sort tools streamlines furniture research. When combined with unified product, pricing, delivery, and promotional information, your website can be an ideal bridge between the two experiences.
Ecommerce CRO isn't the only strategy to consider. Read on and learn how to Develop Your Strategy for Today's Omnichannel Ecommerce World.