Utilize Your Furniture Ecommerce Platform To Drive In-Store Traffic
By Blueport Team May 4, 2023 9:06:58 AM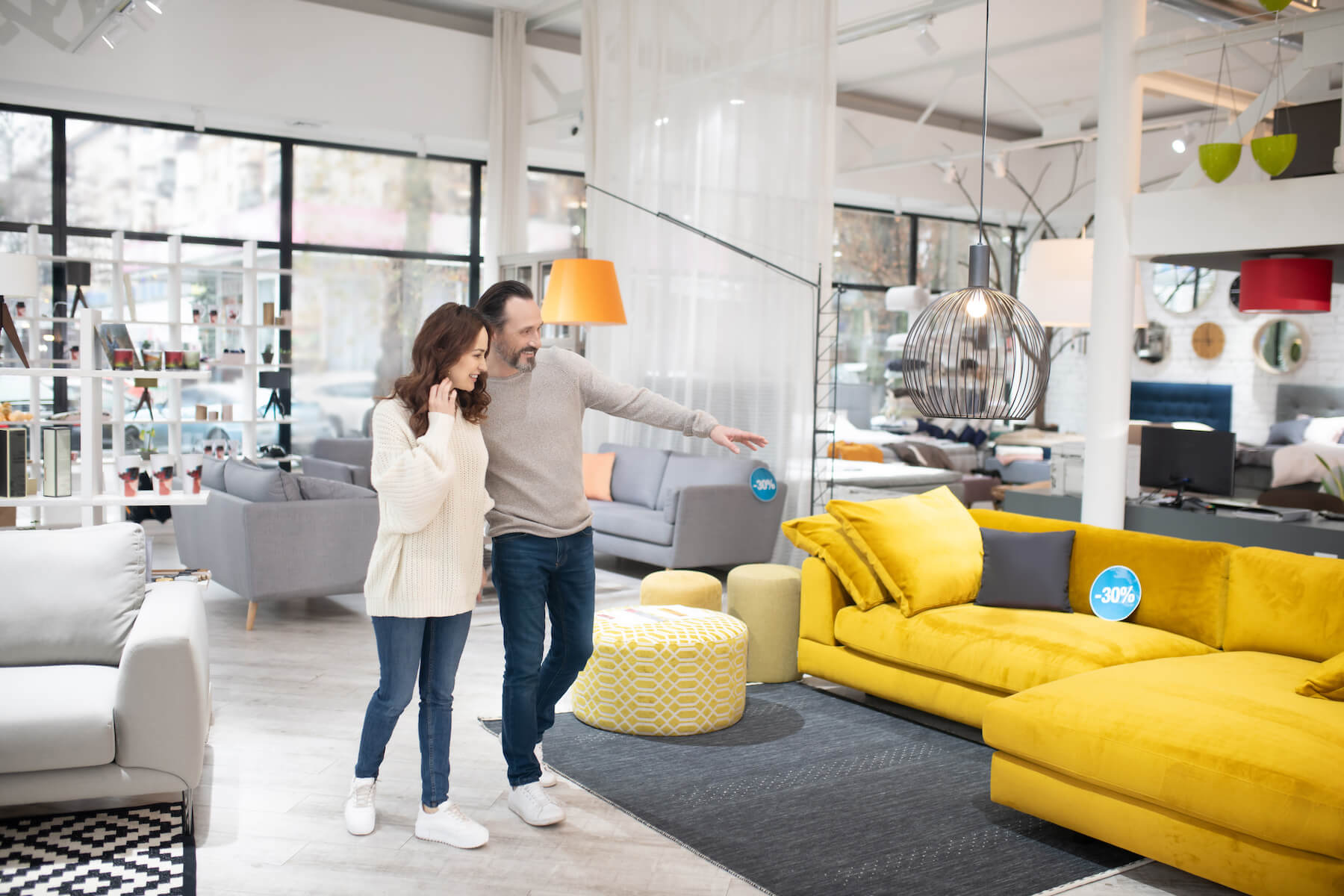 Ecommerce shouldn't be considered a separate division of your retail furniture business. Instead, you should consider ecommerce and in-store sales two sides of the same coin; each can drive sales through the other channel.
Let's take a look at how you can use your furniture ecommerce platform to drive in-store traffic.
The Benefits of Using an Omnichannel Furniture Ecommerce Platform
Your website is not only for online shopping, it is often the first stop before someone decides to drive to your brick-and-mortar store. In fact, 63% of shoppers begin their buying journey online. No longer merely a trend, today's consumers expect to be able to research online and purchase offline — a habit known as pre-shopping — especially when making a big-ticket purchase like furniture.
While the majority of shoppers are still buying in store, ecommerce sales across all industries in 2022 accounted for 15% of total sales — a number that climbed between 2020 and 2023 and is expected to continue to grow.
How should you position your business in light of the data behind pre-shopping and furniture store foot traffic? The takeaway is that every furniture retailer needs an omnichannel furniture ecommerce solution.
Omnichannel ecommerce delivers a seamless customer experience across all sales channels, especially in an industry where shoppers also expect to be able to use their phones while shopping. The right furniture ecommerce platform lets you present your brand consistently both online and in your physical store and, at the same time, drive in-store traffic.
How to Drive In-store Traffic With a Furniture Ecommerce Platform
Operational effectiveness means you need your technology to serve more than one purpose. Using your ecommerce platform to pull double-duty as its own sales channel and as a marketing engine for in-store sales is a way to do just that.
Which furniture ecommerce platform would be best to meet both needs? You need one that allows you to do the following.
1. Leverage Geolocation Technology for Localization
Website localization is the process of refining your site's content to be relevant to your target users — those in the local area of one of your stores. Before you can use your website to drive traffic to your store, you need to determine where each online shopper is located using a platform with geolocation capability.
Geolocation technology identifies the location of your website visitor using IP addresses, so you can create a local merchandising strategy. For example, geolocation lets you present the products favored in a specific region, provide information about local delivery options, and promote regional events.
2. Provide Local Inventory Information
Your ecommerce platform lets shoppers easily find their local store, including contact information. More importantly, it also needs to let your website visitors know what products are available in the store nearest to them.
Many furniture shoppers want to see — and touch — options in person. Informing customers which store is displaying the items they want to see in person, can drive in-person foot traffic, particularly for undecided shoppers.
3. Use Local SEO Best Practices
A successful website is one that is visible, and SEO is key. You want your website to be discoverable by shoppers who may make an online purchase but you also want it to be found by those who will make their way to one of your store locations.
To be able to drive that in-store traffic, you need to refine and optimize your website using local SEO best practices, which include factors such as:
Maintaining an accurate Google My Business (GMB) listing.
Selecting the correct GMB category.
Ratings and reviews.
These factors contribute to a listing in Google's "near me" searches. They also need to be combined with localized content featuring robust product descriptions, being on 3rd party directories and review sites, and including tags to product images. When searching for a furniture ecommerce solution, make sure that it includes the ability to leverage each of these factors.
4. Localize Your Promotions
Part of a consistent brand experience means that in-store and online promotions need to be aligned. You can drive in-store traffic with localized promotions that offer cohesive retail pricing, sales pricing, finance offers, coupon codes, and other promotions or discounts.
The ability to offer complex promotions and highlight more than one offer at a time isn't commonly found on general ecommerce platforms. A furniture-focused, omnichannel-first ecommerce platform will be able to meet these needs.
5. Align Online and In-store Experience
When you use your ecommerce website to drive in-store traffic, you need to ensure a consistent online and brick-and-mortar experience. Your customers should be able to move seamlessly from online to in-store — or the inverse — potentially even more than one time.
An additional way to align both experiences is to ensure your website is a tool for your salespeople. By allowing for sales attribution, your salespeople can receive credit, regardless of if an in-store shopper ultimately purchases online.
Develop Your Omnichannel Strategy To Drive In-Store Traffic
Recognizing how to drive in-store traffic with an ecommerce presence can start your journey to maximizing revenue across your organization. Develop your strategy for today's omnichannel ecommerce world and drive more in-store traffic than ever before. Read our guide for omnichannel ecommerce strategy creation and learn how to:
Consider your customer and your business needs.
Connect with your customers on their terms.
Extend the omnichannel strategy past the purchase transaction.
Read the free guide today to start your journey to driving more in-store traffic.