Your business's overall marketing strategy has many components, one of which should be digital marketing.
While there are multiple ways to connect with your audience online, one of the most important channels is through social media marketing, using platforms including Facebook, Twitter, Pinterest, and Instagram.
Below, we'll be focusing on how your brand can effectively utilize Instagram to reach your customers, showcase your products, and grow your furniture business.
How Your Business Can Utilize Instagram
Instagram, established in 2010, has grown to become one of the most popular social media platforms. With over a billion monthly active users, this platform is a great opportunity for your furniture business to show off products and connect with your audience.
Define a Strategy
When done right, Instagram and other digital marketing tools can help put furniture brands at the forefront of consumer awareness. Instagram's visual nature and evolving toolset also allows you to promote your products in fun and interesting ways.
Since every organization can create its own brand experience on Instagram, find out what works for your business and continuously optimize your plan. Here are five keys to creating an effective Instagram marketing strategy:
1. Know Your Audience
To truly connect with your current and potential customers, it's necessary to first know your Instagram audience.
You'll want to learn demographic information about them, including age, location, income, and time of day they are most active on the app. Once you have a general idea, you can begin asking questions to refine your strategy, including:
Who is engaging with your content?
When are people engaging with your content?
Are the posts appropriately targeted to your key audience? In other words, are you creating content that your customers want to see?
It's crucial to continuously update what you know about your audience, as these details will change as your Instagram following grows.
2. Create Appealing Content
After you have your target audience identified, the next step is to provide them with appealing content that mirrors your brand's aesthetic.
To align your online and in-store experiences, you can provide digital customers with views of your physical store. This may include the sneak peaks of a new product, images from your brick and mortar stores, which can provide them with a more traditional-feeling shopping experience, or videos with your employees showcasing products, which can add an extra component of personalized content.
3. Create Engaging Content
To create content that your audience wants to engage with, you'll want to test out several different content types.
These include:
Within your Instagram Stories, utilize polls, links, and more to get your audience engaged.
By utilizing popular audio and trends with Instagram Reels, you can bring brand awareness to a larger audience than your average posts.
If your audience enjoys real-time videos of your furniture store, you can utilize Instagram Live videos to connect with them.
You may also want to explore utilizing influencers to create more lifestyle content and target specific personas. And, of course, you'll want to be sure you're using keywords and hashtags in your Instagram caption to reach more people and help them find your content.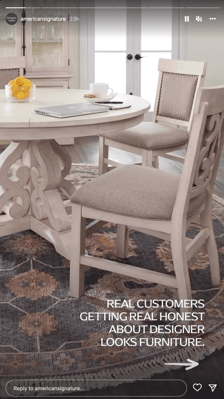 .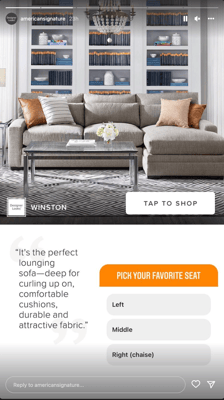 4. Connect With Your Audience
Instagram is a social platform. Therefore, to make your customers feel like they have a real connection with you through your Instagram, you should:
Actively manage your direct messages and ensure you respond to customers' needs and questions.
Respond to comments on your posts.
Comment on influencer posts and any posts your customers tag you in.
Provide your contact information on your profile.
Set up an Instagram Shop so your customers can shop directly from your profile.
You can turn one-time shoppers into long-term, loyal customers by creating a genuine connection with your audience.
5. Always Measure
The first step to measuring your audience on Instagram is to use a business account. This feature allows you to access insights about your audience, understand which posts are driving the most engagement, and provide your audience with contact information.
Once you have that in place, you'll want to continuously measure and optimize your posts. Areas to measure may include:
Which Instagram Stories perform best.
You'll also want to examine which features (i.e., links or questions) you included within these top-performing Stories so you can replicate them and grow your engagement.
Which posts get the most engagement.
Which posts cause the most people to like, comment, and save them? Once you find out the kind of content your followers want to see, you can create similar posts.
When you get an influx of quality followers.
While the number of followers you have isn't directly correlated to business success, the more loyal customers you have, the better. For example, if influencer posts are driving an increase in quality followers, you may want to consider spending more of your social media marketing budget in that area.

Create a Unified Shopping Experience With the Right Furniture Ecommerce Platform
Traditional ecommerce funnels are frequently designed with linear journeys in mind that sell smaller, easy-to-fulfill products, but the furniture industry comes with unique challenges that need to be addressed.
To create a seamless omnichannel furniture business, you'll need to align your in-store and online experiences to create a remarkable furniture shopping journey that differentiates your brand from the competition.
Explore the Furniture Shopping Journey to learn more about what your business needs from a furniture ecommerce platform — and how to find the right one.