A comprehensive digital marketing strategy can guide shoppers to your furniture ecommerce website, but once they're on your site, how do you keep them engaged? One solution is to create a strong ecommerce merchandising strategy that will allow you to engage and retain furniture shoppers throughout the entire buying process. Below, we'll discuss five ways you can create a successful online merchandising strategy.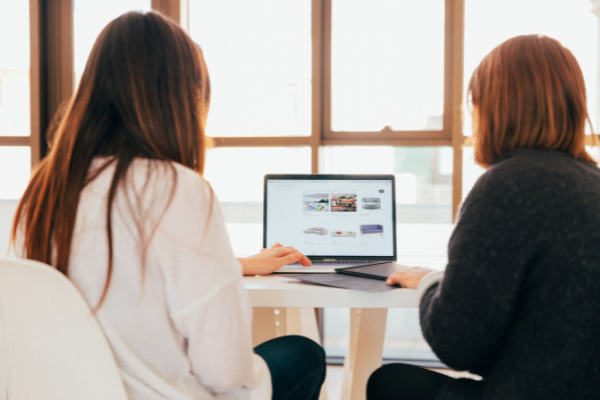 How To Create a Retail Merchandising Strategy for Your Furniture Business
1) Tell a Story
To catch potential customers' attention, you need an effective retail furniture merchandising strategy that displays and offers products in a compelling way.
To tell a story, you can:
Design a flexible homepage. Make sure your website's homepage tells about the newest merchandise, best sellers, promotions, and more. You'll also want to tell your customers about your brand. What makes your business different from other businesses? Why should your customers choose to buy these products from you?

Use carousels and banners to highlight products and promotions. Throughout your website, you have the ability to merchandise your product via carousels and tell your visitors about deals, promotions, and sales by utilizing content banners. With purposeful messages and enticing visuals, your customers will learn more about your merchandise and view additional products.

Use lifestyle content. By showcasing your products in ways that your audience can connect via room and lifestyle images, they'll be able to vividly imagine how they can use the products in their own spaces.




When your audience relates to your story, you can grab their attention, maintain engagement, and lead them through the buyers' journey one step at a time.
2) Inspire Shoppers To Browse and Shop Your Site
Just as an effective store layout will guide shoppers through a brick-and-mortar store, your website's merchandising strategy should guide the shoppers through your site with ease. The placement of products and promotions should answer your customers' questions before they even ask them, such as: what products are on sale? What products are current best-sellers? What merchandise is trending for the upcoming season?
To inspire your customers, you can:
Share featured products. For example, if there's an item that you would place in the front of your brick-and-mortar to gain attention, make sure you're promoting it on the homepage of your website — the front of your digital store — as well.

Use eye-catching CTAs. Draw your customers' attention to a certain area of your website through enticing CTAs that promote timely offers, customization options for certain products, and other important information.

Provide relevant product suggestions. Naturally help your customers through the buying journey by providing additional products that are related to the items they are already browsing. Whether this is a complementary nightstand, mirror, or accessories for a living room, cross-selling products can help your customers round out their purchases with everything they need.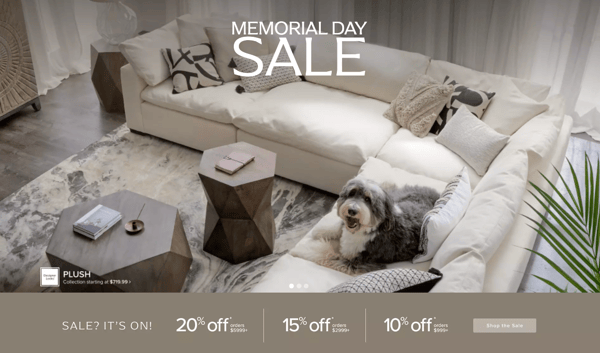 Ultimately, your website and merchandising strategy should enable shoppers to find the products they want, provide them with the information they need, and, eventually, guide them to make a purchase.
3) Treat Landing Pages Like Showrooms
Your retail furniture merchandising strategy should mirror the strategy you have when you think about showcasing your products in a brick-and-mortar store. When a customer walks into the store or visits your site, what do you want their purchasing journey to look like?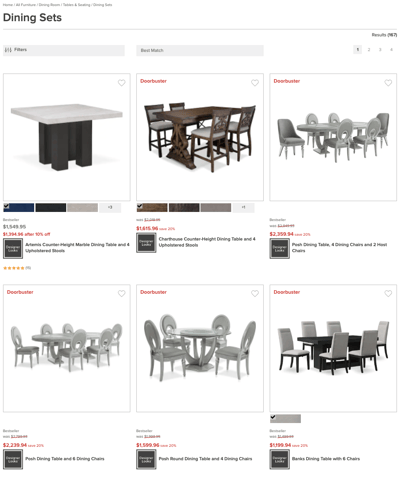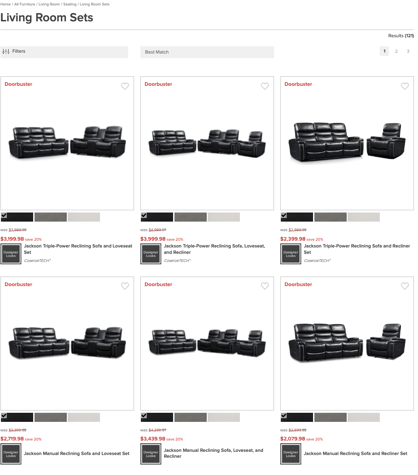 Here are a few of the ways you can maintain consistency between your in-store and online merchandising strategies:
Create curated landing experiences. When your customers search or browse your site, ensure they are finding the best results through thoughtful "searchandising" and product taxonomies. Ensure that a keyword search or menu landing page offers results that mirror what you would show a customer in your brick and mortar store.

Include helpful product descriptions. On each product page, ensure your shoppers have all of the information they need to make an informed purchase, such as high-quality photography, videos, options, dimensions, material, and color.

Ensure effective inventory management. You wouldn't want to showcase unavailable products in your store, so make sure you don't do it online, either. With certain ecommerce platforms, you'll have the ability to create an accurate, unified commerce system between your online and brick-and-mortar stores by integrating with your existing ERP system so your online inventory and availability are always up to date.
No matter where your customers want to shop, make sure that your ecommerce merchandising strategy includes a unified experience that highlights your products, provides them with the information they want, and seamlessly leads them through their buyers' journey.
4) Create an Omnichannel Shopping Experience
With more and more customers ready to make large furniture purchases online, make sure your customers can shop seamlessly between your brick-and-mortar stores and your ecommerce store.
In order to provide a comprehensive ecommerce experience between your in-store and online experiences, your website and brick-and-mortar store should offer the same products, pricing, and promotions. Whether customers start online and buy in-store or begin their purchase in-store and buy online, each shopper experiences an omnichannel customer journey that allows them to shop and purchase however it's convenient for them.
5) Utilize Geolocation Tools
Personalize the user experience with local store optimization. Certain ecommerce platforms can allow you to personalize the shopping experience based on the customer's location. Your brick-and-mortar merchandising strategy likely has nuances for different regions or even different stores. Using geolocation tools, you can create the same locally curated merchandise and marketing experience online.
Some examples of how you can enhance the customer experience with geolocation include:
Feature products based on location. While national best-sellers can also entice customers, showing them a local favorite might have a more powerful effect, especially if your customer has also seen it in-store.

Inform them about local delivery options. Let your customers know exactly how and when they can receive their products by giving them real-time delivery and pricing availability based on their zip code.

Promote regional events. If your business is participating or hosting an event, let customers in that area know about it. By inviting and socializing with your customers, you can create a stronger connection with your audience.
Through geolocation tools in your furniture ecommerce platform, you can employ localized strategies to make your customers feel like they had a personalized experience with your business.
Connect With Your Customers Through an Effective Ecommerce Merchandising Strategy
Having a solid merchandising strategy starts with accurate product data and the technology that enables you to put these strategies into action. With the right ecommerce platform for your business, you'll be able to implement, update, and optimize your merchandising strategy as necessary.
Ready to learn more about creating the perfect ecommerce merchandising strategy? Download our Merchandising Playbook today to create an effective merchandising strategy for your furniture ecommerce business.
---