Digital Marketing for Furniture Retailers 101: SEO Best Practices
By Blueport Team Mar 24, 2022 3:38:00 PM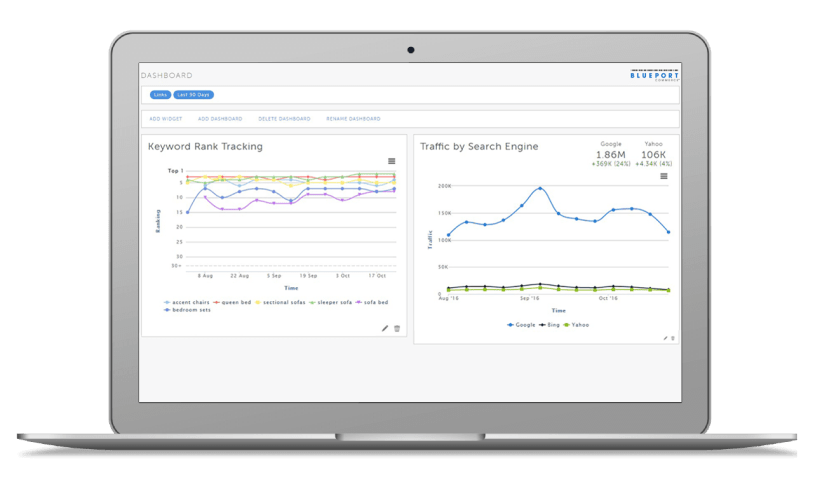 Search engine optimization (SEO) is a way to optimize your ecommerce website and content to reach more customers. By using SEO best practices, you have a higher chance of ranking on search engine result pages (SERPs).
Ensuring your website follows best practices for SEO can help bring customers to your business. In fact, SEMrush found that on average, more than half of a business's traffic comes from organic search. Although ROI can be hard to quantify, there's no question organic traffic can significantly boost business if done right and, ultimately, search engines are about providing searchers with the content they want.
SEO for Ecommerce: Best Practices
There are many best practices you can implement to improve your website and content's SEO, including:
While this is a non-exhaustive list, these are some ways to improve your business's SEO. Below, we'll discuss how you can implement SEO best practices for furniture ecommerce:
Utilize Local Store Optimization
One way to reach more customers is through local SEO. While larger, national brands will likely show up for some of the broad furniture category terms, you may need to spend more time creating local content.
You can implement geolocation, which allows you to locate shoppers and present them with localized marketing, sales, delivery options, and more. By focusing on regional and brand-specific keywords, you can increase organic traffic to your site and connect with local customers who will then be able to take advantage of the in-person aspect of your omnichannel furniture business.
Create Substantive Website Content
Ultimately, search engines are looking for content that is important and relevant to the searcher. To help your products garner more attention, optimize descriptions to make them more valuable and relevant to your audience.
You'll want to ensure you have an updated product inventory on your site so your customers can always find accurate information. Product descriptions should be substantive, specific, and tailored to the product you're discussing.
If you're uncertain which description length is right for your customers, examine site metrics — such as bounce rate and time spent on the page — to determine if your content is engaging your target audience.
Ensure Webpage and Content Readability
People are going to your website looking for answers, use white space to your advantage and guide them through your page by using headings, subheadings, and images.
Headings Best Practices
Within your content, it's important to use headings and subheadings to showcase the most important information and clearly tell your readers what the content is about. Search engines also use these headings to understand what your content is about so they can provide it within the most accurate SERPs.
H1 tags are most often used as titles or equally important information, followed by H2 tags for subheadings, then H3, and so on.
Image SEO Best Practices
By inserting images throughout your website, you can break up the content, promote your products, and provide search engines with context for your site.
But it's not enough to just include images — you need to accurately name them, as well. For example, instead of naming a product image1234234.jpeg, consider naming it something relevant to the product to help search engines understand what they are looking at, such as "BrownLeatherSectional.jpeg."
The image alt text also helps search engines determine the context of an image. For example, if you are showing an image of a sectional, be as descriptive as possible in the alt text by including the word 'sectional,' the name of the product, and the color. For example, "brown leather reclining sectional in a living room."
Your furniture ecommerce website should be reader-friendly and utilize headings, subheadings, and images to break up the text. Don't be afraid to have whitespace on your site — the right amount can create an incredible user experience.
Explore the Online Furniture Shopping Journey
Ultimately, search engines rank pages that will be most relevant to the person who is searching. With fresh, updated, and informative content, you can create an organic search strategy that is impactful for your business. While creating an optimized website is a great way to connect with your customers, it's just the beginning of the buyer's journey.
In order to provide your customers with a seamless omnichannel experience, you'll want to make sure that your business is focused on an ecommerce funnel that was specifically built for furniture retailers.
Explore the online furniture shopping journey to create an efficient online furniture shopping experience for your customers today!