As mentioned in the first post of our "Make the Most out of Your Online Furniture Store" series, paid digital marketing allows furniture retailers to target specific shoppers and deliver a customized message. But there's an additional way shoppers can find your brand: let them find you organically. Don't get us wrong, paid digital marketing is an essential element to a furniture retailer's marketing mix. However, the keyword here is mix. To maximize the traffic from paid channels, furniture retailers should also take advantage of free traffic through unpaid channels.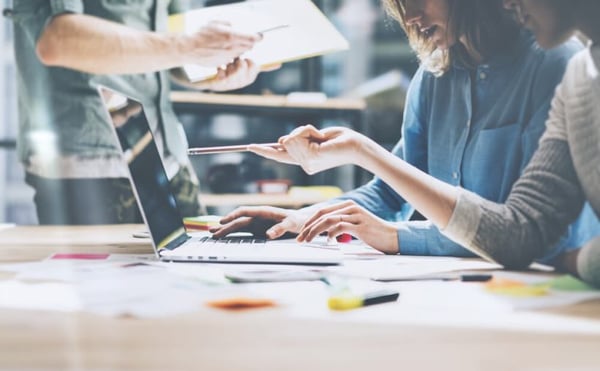 Unpaid channels make up over 60% of visits to Blueport client sites. The top three unpaid channels that can deliver free traffic to your site are organic search, direct traffic, and social platforms:
Organic search: When a shopper finds your site through a query on a search engine and clicks on an organic (unpaid) link.
Direct traffic: When someone types your site's URL directly into the address bar.
Unpaid Social Platforms: When influencers, thought leaders, and potential shoppers locate your brand via free social platforms and ultimately visit your site.
In the next sections, we'll discuss why each channel is important and how furniture retailers can maximize their site traffic from these unpaid channels.
#1 Optimize Organic Search for Free Traffic
Organic boils down to a simple idea: be where the customer is looking for you. First, to optimize your site for organic search, let Google know you have a site. Make sure each of your store locations has a Google My Business account. This free account will ensure your stores show up on Google Maps and in Google search results, based on shoppers' locations. Next, have your developers add Google's pixel to your site. This allows you to track your site in Google Search Console. You can constantly monitor how your site is presented in Google's search results via Search Console.
Other than letting Google know you exist, there are three other critical ways to optimize your site for organic search:
Robust product content: Your product detail pages should include keywords that shoppers will search for when trying to find a particular type of product. Adding keyword-rich content will verify to crawlers that your page has what searchers are looking for. This will boost your page in search results.
Responsive Design: This approach to design and development ensures that your site will render consistently across all devices. Google now checks that sites are mobile-friendly (Mobilegeddon), when deciding which sites to return to the top of search results.
Objective, relevant and engaging content: There should be crawlable content in addition to product content on a majority of your site pages. The content should be engaging so the shopper stays on your site longer and crawlers can identify the content, allowing your pages to rank higher. In other words, don't just cram the page with keywords.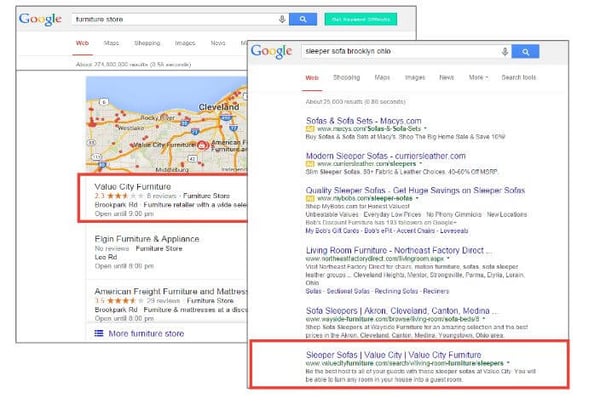 #2 Influence Direct Traffic through Other Channels
Direct traffic is when a shopper goes directly to your site, as opposed to finding your site through a search engine. To influence direct traffic, retailers need to leverage other marketing channels and physical store locations to let people know there is a website. Therefore, direct traffic is not entirely free. It does, however, capitalize on the money you've already spent to build your brand.
To convert direct traffic, you should:
Drive shoppers directly to your homepage. For example, put your link on a billboard or on the side of a truck.
Broadcast an ad (could be on TV, radio, podcast, etc.) featuring a specific promotion that mentions a specific landing page (for example www.retailer.com/memorialday).
Lead shoppers to a page that is relevant to their needs. For example, if you have a print ad showcasing the quality of your sofas, the link at the bottom should be a page with all the sofas you sell, not your homepage.
#3 Make the Most Out of Social Platforms
One very easy way for furniture retailers to get free traffic is through social media. While it drives fewer visits to Blueport client sites than organic search and direct, it can help generate brand awareness. Creating sharable content is an important, if not the most important, aspect of a successful social media strategy. If you, as a retailer, can create content and match the tone of your target demographic, influencers will pick up your content and share, via social, with their followers. This creates an ecosystem of brand ambassadors that will create free traffic for you.
In addition to creating sharable content for social media, furniture retailers should do the following:
Utilize visual social platforms because furniture is a visual shopping experience. We have noticed that visual platforms such as Instagram, Pinterest, and Facebook are the more successful platforms when trying to reach furniture shoppers.
Avoid posting promotions on social media unless it's a limited offer for a short time. Social media users generally aren't seeking out a promotion. They are looking for engaging, interesting content. Users are less likely to engage with and/or share your content if they're only getting promotions from your social platforms.
Build up your organic social followers before venturing into paid social. Paid social takes advantage of all of your followers and how they interact with certain posts. From our experience, we learned that paying to boost a post works best when the post was successful organically first.
---
Who doesn't love free traffic? While paid digital marketing channels are important, the key to a furniture retailer's success is a healthy mix of paid and unpaid. Retailers should use these free channels to complement their paid efforts. Just focusing on paid channels will get very expensive very quickly. Just focusing on unpaid channels will provide free traffic, but you'll lose the targeting benefits of paid digital marketing. Successful digital marketing is about finding the happy medium between paid and unpaid.