The ecommerce space is constantly changing and evolving. There are endless options for tools and technology that you can plug into your ecommerce strategy to further connect customers to your brand and guide them towards a purchase. It seems like once a week we are seeing a new crop of technologies with lofty revenue-driving claims.
As the leading omnichannel platform for furniture retail, we have a team devoted to researching and vetting these tools to determine which truly live up to the hype. The ecommerce tools we add to the Blueport roadmap are those that enhance and streamline the furniture shopping experience, driving revenue for furniture retailers online and in their stores. The key is testing new tools with consumers to see how well they facilitate the furniture shopping process and work in tandem with a brick-and-mortar backbone.
Blue(re)Port: 2017 Omnichannel Furniture Benchmarking Report (coming soon!) analyzes over 50 features across more than 100 furniture retail sites to determine which sites are closest to a perpetually moving target – the ideal furniture website.
With recent feature developments and trends in the industry, we couldn't wait until the release of this research to grade some of the up-and-coming tools abuzz in the industry. Let's take a moment to see what next-gen ecommerce features are worth incorporating into your omnichannel strategy.
Visual Search – Blueport Grade: A
Last month, Wayfair released their newest artificial intelligence feature, "Search With Photo," a visual search tool that allows shoppers to begin a search by uploading a photo.
It's a great use case—shoppers may take or come across an image of an item and hope to buy something like it. But how do you find that item on a website? A keyword-driven search is unlikely to fully capture the characteristics of furniture, leaving a shopper to scroll through images to find what they are looking for.
In many ways, image search—the ability to translate visual inspiration to something you can buy—is the killer app in this space. It builds upon new ways to discover products—taking pictures you take yourself or pin to Pinterest home décor idea boards—and makes them actionable, leading shoppers to ways they can get those items in their home quickly and easily.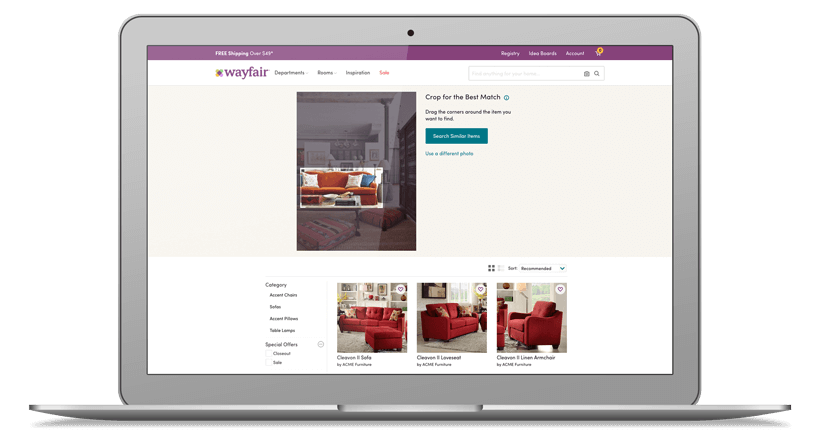 Wayfair's "Search With Photo" Tool (credit: Wayfair.com)
While technically a difficult challenge, and one that needs to work exceptionally well to be useful, this is a stellar search tool that will help make omnichannel shopping seamless for the visually-inspired shopper who's looking for a way to make their dreams a reality.
Augmented Reality – Blueport Grade: B (for now…)
Augmented reality is a hot topic in emerging technologies that furniture retailers may be looking to add to their ecommerce feature arsenal. Certainly, there has an uptick in interest in virtualization technologies since two of furniture's biggest disruptors are already using or planning to bring these experiences to the retail table: Wayfair and Amazon.
To those readers who need a quick refresher: augmented reality imposes digital renderings of objects (in this case, furniture) on to real environments with the use of a phone or tablet. Wayfair's WayfairView is one well-known furniture tool powered by augmented reality—letting users get a better sense of a product's look-and-feel within the actual rooms that they're buying furniture for.
Blueport was one of the first ecommerce platforms to test augmented reality technology and after an extensive analysis, we've given this feature a B—for now. There is enormous potential for augmented reality to answer the ubiquitous furniture shopper question "how will this look in my home?"—but delivering an experience that meets customer expectations is a challenge and requires significant investment to get it right. Add the costs of modelling each product and then you're left spending a lot of money on a feature that consumers have yet to fully embrace and doesn't (yet) have much of an impact on driving revenue.
Virtual Reality – Blueport Grade: C (for now…)
With virtual reality, shoppers use hardware (traditionally goggles) to enter a fully immersive environment for viewing virtual furniture. This buzz technology has definitely revved up the retail/tech hype machine since Amazon announced plans to roll out brick-and-mortar stores that showcase big-ticket products using primarily virtual reality. Lowe's is another retailer that already has tried its hand at bringing VR experiences into its showrooms.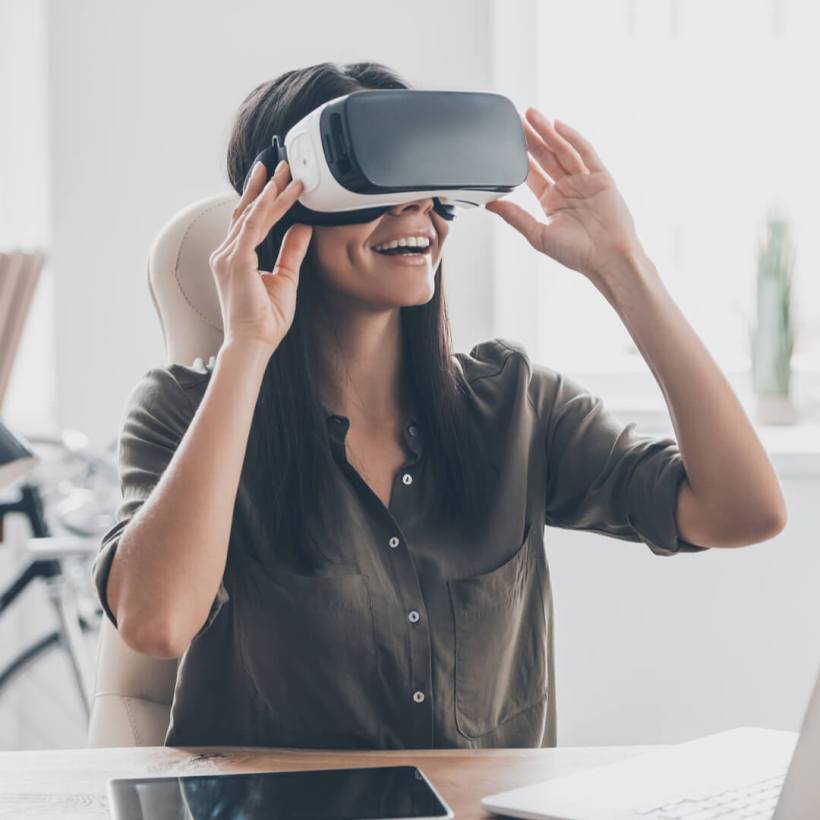 At this point, Blueport's response to this new technology is similar to augmented reality. Someday, it will be a cool way to design your entire home, but it's not as useful as AR now and comes with a higher hardware investment and consumer adoption hurdle. That said, it is certainly a feature to keep an eye on as the technology develops and becomes more affordable.
For now, stores with a brick-and-mortar presence (i.e., "real reality") may want to focus on their in-store experiences before investing heavily in virtualization experiences. In many ways, VR is Amazon and Wayfair's attempt to catch up to what retailers already have in their stores. Plus, you still can't sit on a VR sofa.
---
Ecommerce is retail's new frontier. Inevitably, there will be new waves of digital features to merchandise products and eventually convert shoppers. But in some cases—particularly in newer online categories like furniture—this evolution will come with some hits and some misses.
Forward-thinking, revenue-driving, and furniture-focused features are built into the Blueport Platform. Better yet, retailers running their site on the Blueport Platform get a steady stream of features like these to ensure you don't just launch ahead of the curve — you stay there.
If you're looking to differentiate your brand online, give us a call. And, stay tuned for our upcoming Blue(re)Port: 2017 Omnichannel Furniture Benchmarking Report to see what true differentiation really looks like in today's retail environment and beyond.