We found where the NEXT opportunities are in furniture retail.
There's been a lot of talk about where the furniture vertical is going digitally. And at Furniture|Today's NEXT Conference last month in Savannah, GA, we heard many of the industry leaders refer to furniture's giant ecommerce opportunity—largely untapped and growing.
And what is the vehicle helping drive this category's ecommerce agenda? Technological innovation. From initial engagement touchpoints to closed sales, customers are now able to reap the benefits of a versatile, tech-enabled shopping journey. There are so many new ways your customers can experience the product that might become the next addition to their home, find your name through the throngs of retailers selling online, and validate their next purchase.
Here are some main highlights that forecasted an optimistic vision for furniture ecommerce.
Virtual reality and augmented reality can help you sell online
Beck Besecker of Marxent explained product visualization technologies are making an impact in the furniture retail space. An expert in using augmented reality and virtual reality as tools to enhance retail experiences, Besecker says that the Star Trek-like innovations you once dreamed of will soon be ingrained in our everyday shopping experiences.
For those who need a quick reminder: augmented reality projects digital images onto real environments using the cameras in devices like smartphones or tablets, while virtual reality completely immerses participants in virtual spaces using over-the-head hardware like goggles.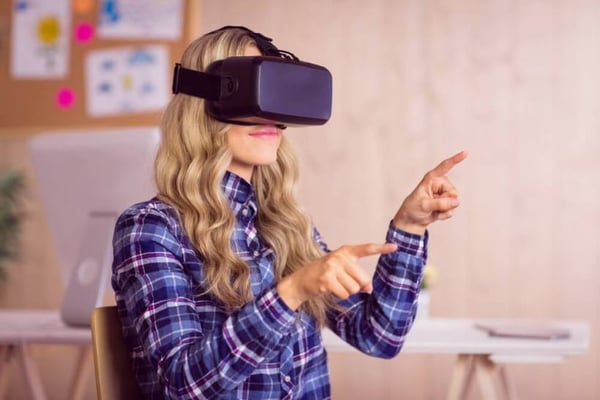 Already, Besecker is seeing product visualization as a powerful engagement tool at the top of the sales funnel. An example: at a home improvement brand like Lowe's, he's already seeing positive effects from recently implemented virtual reality booths called HoloRooms, which allow shoppers to build out a virtual kitchen at their brick-and-mortar locations.
These HoloRoom renderings seamlessly translate to the world of ecommerce. The content that you generate via virtual reality can then be shared online with your friends through social channels and linked to online pages of the products you're considering.
According to Besecker, it usually takes shoppers 14 months to make any decision related to kitchen features. As a similar big-ticket vertical that has a longer purchase cycle, the furniture industry, he says, will soon include these futuristic experiences to engage with customers in-store and online.
When it comes to digital marketing, search is where the purchasing story begins
Christi Olson, a Search Evangelist for Bing at Microsoft, emphasized the paramount importance of search in digital marketing strategy. Search is often the first impression that a shopper may have of your brand and what you have to offer. According to Olson, 50% of purchases start on a search engine.
While Olson said there was no predictive path to purchase after a shopper has tapped into a search engine, she advised keeping all search terms in mind—brand terms, non-brand terms, everything. You never know which one will meet your customers at the right point.
Mobile matters
These days, online shoppers are king, and they're looking for three things, according to Ryan Craver, a digital strategist at the Lamour Group: limitless choice, self-help, and immediacy. And no matter how your customers follow through with your brand—researching a product online and purchasing in-store, going to a store and purchasing online, or researching online and picking up in a store—a mobile phone is the centerpiece of the omnichannel experience.
Your shoppers use smartphones for just about everything, both online and in-store. Their functions run the gamut:
60% use smartphones to obtain store locations
46% read reviews on mobile
41% close transactions on their phone
What matters most is making sure that you have the online and in-store resources to meet your next customers, whatever channel they may find themselves on throughout the purchase journey. An omnichannel shopping experience is about giving your shoppers options to shop, and the information they need to do so, at every touchpoint. Mobile is the key device to help cover all these bases.
The future is coming for furniture. Talk to a furniture ecommerce expert at Blueport Commerce today to learn what the next steps are to sell more online.