Blueport Commerce, the leading omnichannel platform for big-ticket retail, announced a dramatic increase in online furniture sales since the onset of the COVID-19 crisis.
From April 1st through June 30th, furniture retailers running websites on the Blueport platform increased online sales an average of 317% vs. the same period last year.
On June 7th, year to date 2020 sales on the Blueport platform exceeded sales for all of 2019.
Across the platform, average order size increased 27% to $1,240 with Sectional Sofas, Living Room Sets, Sofas, and Dining Sets the top-selling items.
Retailers continue to report strong interest in the home category as shoppers look to make the most of prolonged stays at home.
Early in the pandemic, online transactions helped retailers weather store closings. More recently, Blueport retailers continue to enjoy triple-digit online growth even after stores reopened, perhaps reflecting continued concerns about physical shopping, or a change in the behavior of shoppers newly accustomed to buying virtually anything online.
Says Carl Prindle, Blueport's CEO & Founder, "It feels as though the retail industry — and big-ticket categories like furniture in particular — advanced omnichannel adoption 5 years in 5 weeks this spring. We're happy for the retailers using the Blueport Platform to capture this unprecedented opportunity, and look forward to continuing to propel this acceleration".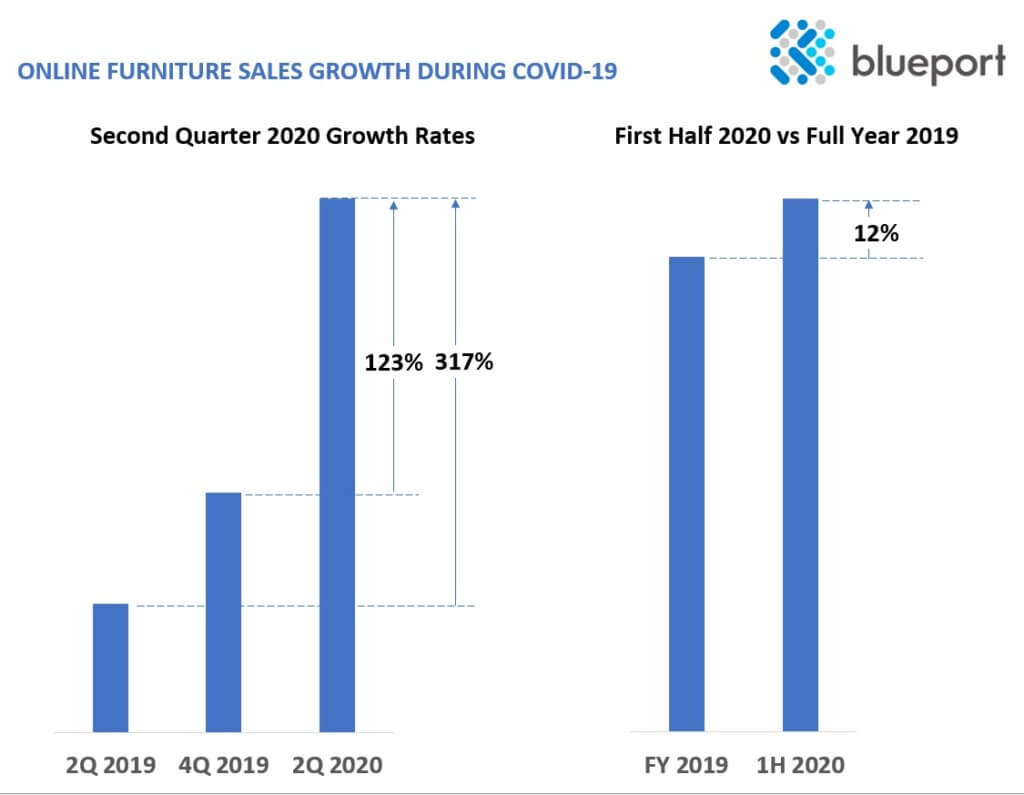 About Blueport Commerce
Blueport Commerce is the leading omnichannel platform for big ticket retail. Brick-and-mortar retailers build best-in-class omnichannel websites on Blueport's Cloud platform, providing better shopping experiences for their customers and driving sales online and in their stores.
###
Public Relations Contact:
Andy Long
Blueport Commerce
along@blueport.com