This year's Shop.Org left me and my colleagues with one overarching takeaway: shopper trends are continuing to evolve in an omnichannel manner with a continuous demand for seamless, cross-channel shopping experiences both online and offline. To accomplish this, retailers must use technology, both online and in stores, to be where the shoppers are looking.
Here are your three key insights on how furniture retailers can use technology and their established brick-and-mortars to be more agile in an ever-evolving ecommerce landscape.

Provide inspirational content specific to shoppers' planning needs
As ecommerce continues to give shoppers the information they need to make a purchase at any time and place, shoppers are beginning to plan their purchases much further in advance than retailers may be used to.
The perfect example of shoppers' planning ahead is with holiday shopping. In 2016, 54% of shoppers began researching gift ideas for the holidays in October. This year, Amy Vener, Pinterest's Retail Vertical Strategy Lead, mentioned that the social platform saw signs of holiday shopping preparation beginning this past April for the holiday season to come. Giving shoppers relevant content during this research stage is critical for winning over the shoppers looking for shopping inspiration.
Pushing last minute sales and offers through your marketing channels won't cut it for this type of shopping behavior. Top-of-funnel content and engagement tactics are increasingly important for generating awareness of your brand to gain shoppers trust and loyalty when deciding who to shop with. Blogs, idea boards and wishlists are all great ways to engage and build experiences with your shoppers as they plan for their purchases.
At Blueport, we help our furniture retailers utilize their homepage to showcase engaging content and imagery that complements shoppers desire to be inspired as they plan their purchases. Note that imagery is the keyword here: 90% of Amazon customers hover over every product image thumbnail available on products that they end up buying.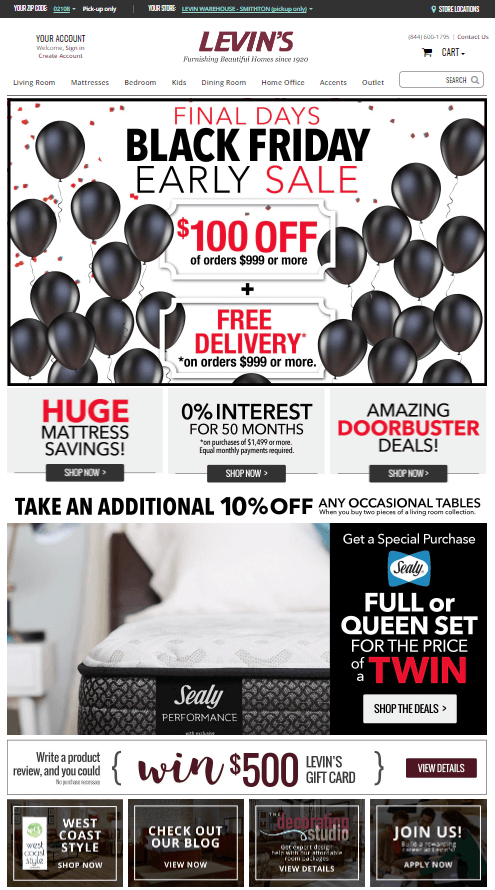 Use data to improve your site merchandising
Data is influencing many retailers' marketing strategies, but there are plenty of opportunities to enhance your site merchandising as well. Stay ahead in today's busy ecommerce environment by treating your product detail pages (PDPs) as a digital showroom: each PDP must provide shoppers the same information and experiences as they would receive in your store.
There are plenty of ways to optimize your digital showroom to make it easy for shoppers to find the products they want to see. One way is to use the language in the positive product reviews in your product details. For instance, if many product reviews of one sofa uses the word "comfy," use this word in the product details to confirm you have what shoppers are looking for. This will help your conversion rate and can also help your products rank better in natural search results for relevant searches.
In addition to relevant product content, retailers on the Blueport Platform can share all the critical information shoppers need on the PDPs when deciding if they should purchase online, such as real delivery dates, sale and promotion information, product reviews, in-store pickup options and more.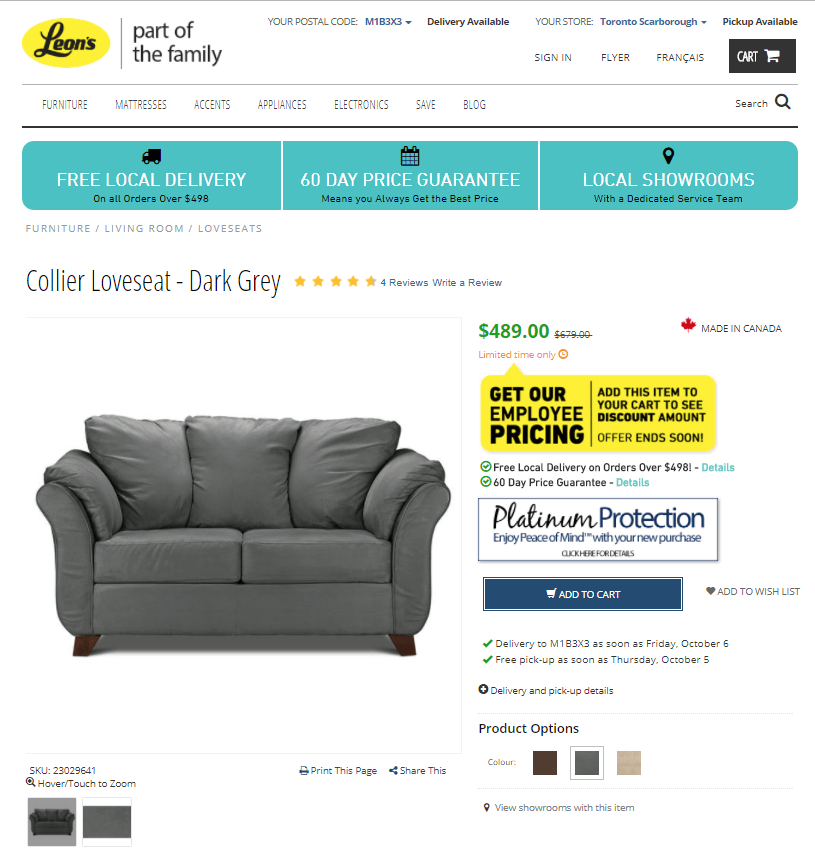 Data from your physical stores can help your site merchandising as well, as seen with Fabletics, a primary online brand who decided to open brick-and-mortars to gather better, contextualized data. The company placed tablets outside every dressing room for store associates to scan the items shoppers try on. Items of interest can then be placed into store visitors' shopping carts in their online account. They also collect shopper preferences, sizes and styles on the tablet in real time to later push personalized retargeting ads and promotions to those shoppers online.
Never forget that physical stores are your advantage
A major theme throughout the conference was the importance of brick-and-mortars, which is something we continuously stress here at Blueport. If ecommerce giants like Amazon moving into the physical retail space isn't enough of a reason to believe your stores are an advantages, let's take a look back how Fabletics chose where to open their physical stores. The company decided on top regions by sales to open brick-and-mortars, which resulted in happy online customers. Loyal online customers visited and spent 3X as much in stores.
To press your advantage as a furniture retailer, focus on delivering seamless, incomparable store experiences. Increase your brand loyalty and better your in store shopping experiences by treating shoppers as VIPs when visiting your stores. Equip your salespeople with technology so they can bring up shopper information upon visiting your stores to help shoppers find exactly what they need. Our furniture retail clients have the advantage of Blueport's Store-Sync technology, allowing sales associates to see items shoppers placed in their carts and place items seen in stores in cart.
---
Being agile in today's ecommerce landscape isn't simple – it requires the constant pursuit of omnichannel experiences that will make shopping with your brand easy for consumers, online and in store. Speak to one of our ecommerce experts today about your omnichannel efforts and how we can help.