Wall Street is noticing the horizon-wide potential of the furniture industry.
You may tell yourself you've seen this play before. Only few years ago, the industry was abuzz with online newcomers like Wayfair, Houzz, and Casper. But this time around, the Wall Street-home furnishings narrative is following a different trajectory. In this big-ticket vertical, the retailers turning heads are the ones in pursuit of the massive omnichannel opportunity—traditional brick-and-mortar players.
Recent acquisitions—including Bob's and Bain Capital, Boston Interiors and Castle Island Partners, and Art Van and Thomas H. Lee Partners just last month—demonstrate that there is more than just the online opportunity in this category and a lot of financial ground to be captured.
As Wall Street continues to influence where retailers in the furniture space are going, here are a few key takeaways.
Many Favorable Economic Factors Indicate That Furniture Will Continue To Be A Vertical On The Rise
According to Noam Cohen (Managing Director, Retail Investment Banking at RBC) at last year's Furniture|Today Leadership Conference, real U.S. GDP growth increased nearly 2%, and unemployment continues to be down. In addition, housing starts and existing home sales are up year-over-year. Together, these conditions forecast exceptional years ahead for the furniture industry.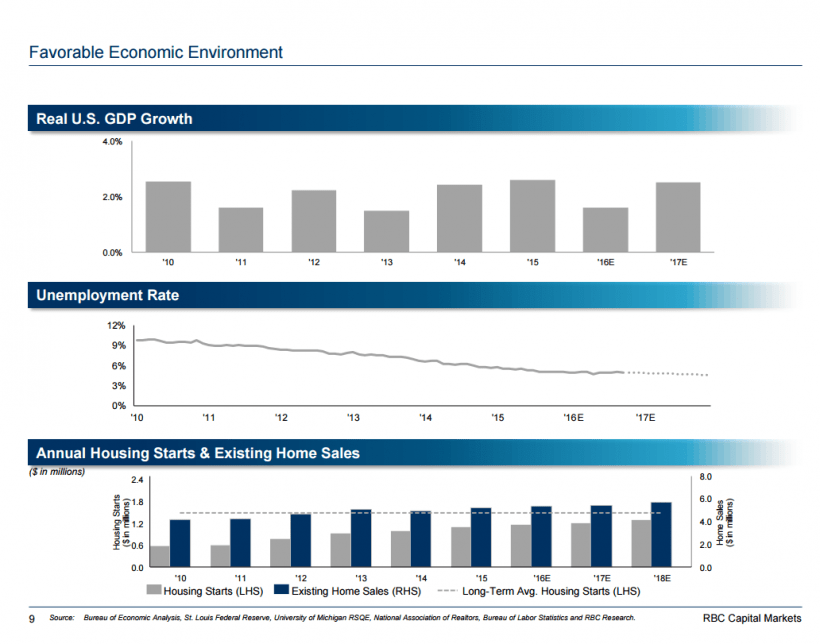 Consumers Are Embracing The Convenience Online Brings To The Furniture Shopping Experience
In its most recent investor report, Wayfair says that the home market's online sales will grow by an enormous 205% between 2015 and 2020 (with online taking nearly 8.3% of an estimated $251B total market last year).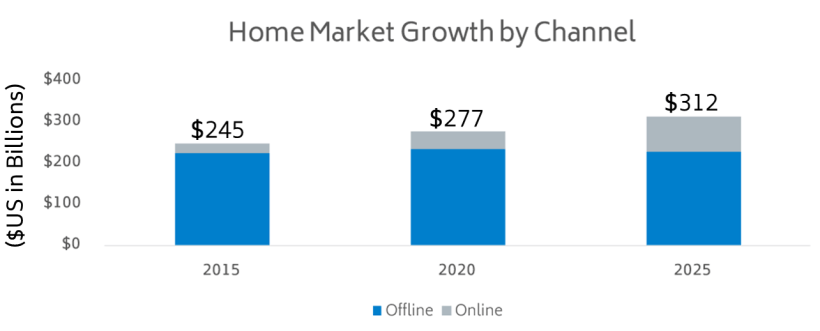 SOURCE: Wayfair
But maybe even more significant is the opportunity online brings when it is matched with the in-store experience. Across the Blueport Platform, we've seen nearly 90% of all furniture sales (both online and in-store) influenced by interaction with online.
Across the Blueport Platform, we've seen nearly 90% of all furniture sales (both online and in-store) influenced by interaction with online.
We're Starting To See Early Signs Of Consolidation
Compared to most industries, furniture is still a relatively fragmented market, but recent trends suggest we're about to see a lot more consolidation in the industry. Market share of the top 20 furniture retailers has increased from 20% to 29% from 2009 to 2015. Additionally, recent expansions from industry titans like Bob's, Nebraska Furniture Mart and Art Van suggest market share is moving to the top.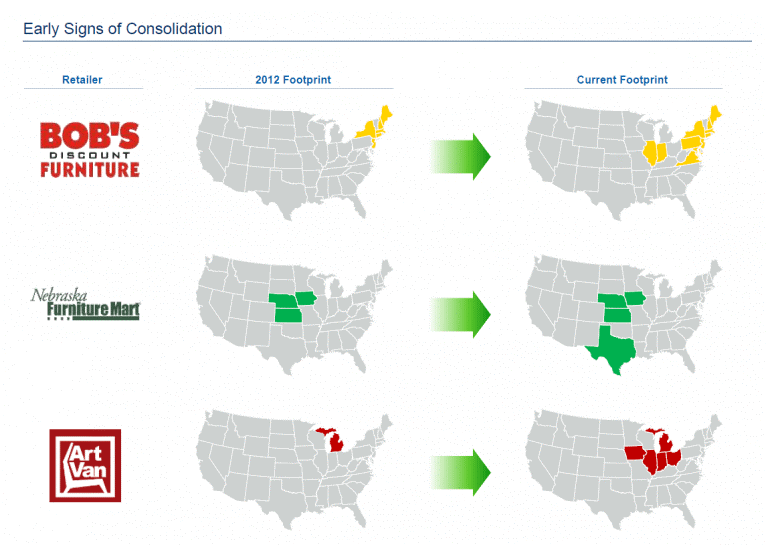 So What's Next For Traditional Players?
Wall Street's recent involvement in furniture proves that traditional players with brick-and-mortar locations have the infrastructure to compete. But retailers should not use that as an excuse to rest on their laurels. Recent moves from national players like West Elm and Restoration Hardware suggest that we're not far off from a world in which the in-store furniture shopping experience has evolved completely.
For retailers to compete today and here on out, it will be imperative to invest in future-proof technology that will help spur more multi-channel growth and help build shopping experiences that will serve customers exactly the way they want to be served. With a strategy that focuses on innovative technological solutions, retailers will be one step closer to capturing the massive omnichannel opportunity ahead.