Tales of a Technology Sherpa at the NRF BIG Show
By Blueport Team Jan 19, 2015 7:00:51 PM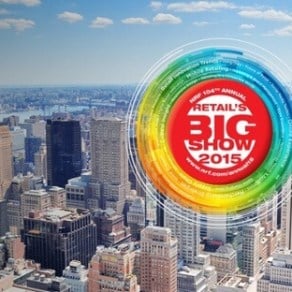 I treasure the relationships Blueport builds with our furniture retailers. As they teach us about their unique businesses and we show them what we've built and learned online in the past 15 years, real partnerships form. Together, we're building a new model for furniture retail – something neither of us could do alone – and are capturing the massive opportunity the internet represents for their businesses.

Last Sunday, I had the privilege of attending the NRF's Retail BIG Show with a top US furniture retailer. They called me their "technology Sherpa" (hugely flattering) but it was far more bilateral than that: a real-time discussion about furniture retailers' needs and technology's ability to help – a partnership in action.
A few observations as we walked the EXPO floor, looking at technology newly available for retailers:
Furniture in the House!
Furniture retailers have long been considered late adopters in the ever-changing world of retail technology. There's a reason for that. For decades, furniture sales grew through the relationship of a community with a brand, a shopper with a salesperson, a piece of furniture with someone's aspirations. Technology didn't have much of a role to play other than make sure that sofas were in stock, orders could be keyed and deliveries were made.
Today, shoppers are insatiable for technology-enabled, easy shopping experiences. And to their credit, furniture retailers are responding. At the show, there were an unprecedented number of furniture retailers walking the floor, big names like American Signature, Rooms To Go, long-time tech pioneer Keith Koenig from City Furniture, Bob's Discount Furniture, Raymour & Flanigan, Nebraska Furniture Mart, El Dorado Furniture, Levin Furniture, Badcock Home Furniture, Bassett Furniture and more. At a show long-dominated by department stores and apparel retailers, this year we saw a lot of familiar furniture faces.
What Exactly Do You Do?
I love walking shows like NRF as a buyer. Partly, I'm shopping. We're constantly looking for new technologies to add to our platform, to make sure the retailers running their websites on the Blueport platform are always ahead of a rapidly moving curve.
Walking the show is also a great way to learn how not to sell software to retailers. With the amazing flow of capital into the digital marketing and "retail enablement" space, there are an astonishing array of companies, offering an incredible number of retail widgets. As a technologist, I love it – partnerships with a select group of these providers help make our platform as good as it is.
But as a retailer, it's bewildering. Buzzword-laced pitches, overlap between vendors, vague language, none of it particularly good at explaining to a retailer how all this will help their businesses. A couple of people got it right: Here's what we do, here's where we fit, and here's how we can help your business. Most felt like they took the pitch they used to raise a VC round and pointed it at retailers. Very few seemed to realize that selling a sofa is different than selling a sweater. Hard to watch, and shows how much upside remains in bridging tech and retail, once tech gets better at explaining the numerous ways it can help.
The End of Omnichannel
The term "omnichannel" seems to have peaked, without an obvious successor other than the now obvious fact that online and retail are inextricably mixed, particularly in furniture, where stores play such a valuable role in the shopping process, and shoppers do all their research online.
For furniture retailers it's simple:
Online helps them win in their stores. Their stores help them win online.
Undoubtedly, a new technology buzzword will emerge to better encapsulate this reality. In the meantime, Blueport will enable it, helping leading furniture retailers capture this opportunity, and together, building the future of furniture retail.