A considered, big-ticket purchase like furniture is often subject to external factors that can impact when customers make a purchase.
Tax refunds are a significant factor in retail sales during the President's Day holiday. The National Retail Foundation estimates that of consumers planning to spend their tax refund, 9% will spend it on a major purchase, such as furniture.1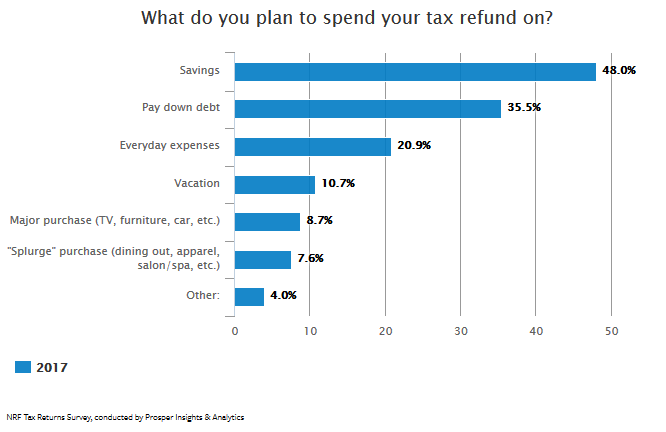 This year the "Protecting Americans from Tax Hikes (PATH) Act of 2015" obligated the IRS to issue refunds no earlier than February 15, 2017.2 As a result, we saw significant delays in President's Day sales across the Blueport Platform as many customers waited to purchase furniture after receiving tax refunds.
For example, in 2017 40% of February's sales occurred the week after President's Day. Compare that to last year when sales were more evenly distributed around 20-26% during President's Day, the week prior and the week after: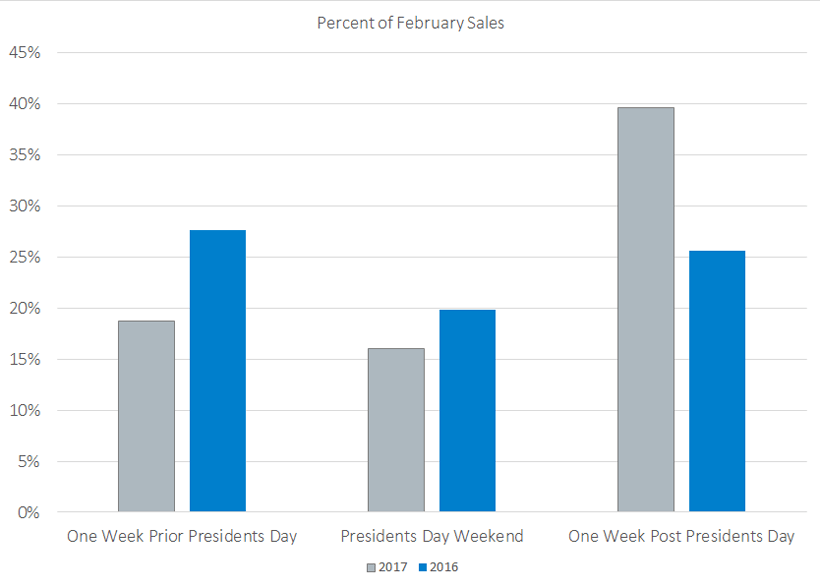 In order to capture President's Day sales, retailers across the Blueport Platform quickly adapted their digital strategy and marketing mix to recuperate delayed purchases. Below are three takeaways that can help furniture retailers adapt their strategy when external factors like Tax Refunds impact holiday sales:
Be Flexible with Your Post-Holiday Promotions & Offers
As seen this past holiday, consumers may not have the money to spend on big-ticket items right away. Retailers need to be flexible with their promotions and offers when situations like this arise in order to capture delayed sales post-holiday. Retailers across the platform extended President's Day promotions and offers throughout the following week to help capture these delayed sales.
Keeping consumers in the loop about post-holiday offers is crucial. Emails notifying consumers about extended offers and clearly communicating the promotion deadline after President's Day helped retailers optimize post-holiday conversion.

Leverage Digital Marketing Channels to Communicate Revised Offers
Compared to traditional channels, like TV or radio in which content and assets are planned weeks in advanced, digital channels are extremely nimble and can be adapted on the fly. By leveraging digital channels, retailers can quickly adapt their marketing message and communicate revised offers to encourage shoppers to purchase post-holiday.
Retargeting, for example, is a great tactic to remind shoppers about the items they've been eyeing or placed in their cart before they had the funds to make a purchase.
Marry In-Store and Online Experiences
The need to align in-store and online channels becomes even more pronounced in a unique environment such as this past President's Day. It is likely that many shoppers did a bulk of the research online or visited a store to identify their purchase, but had to wait until they received tax refunds to actually make a purchase. Creating a seamless omnichannel experience across channels and devices will make it easier for shoppers to make considered purchases when they are ready.
For our furniture retailers this past holiday, leveraging our patented technology Store-Sync enabled customers to marry their online and in-store shopping carts, making it easy for them to purchase furniture once their tax refunds checks came in.
---
As seen this past President's Day, with big-ticket purchases comes many external factors influencing when and what consumers purchase. Being prepared with strong ecommerce and marketing mix strategies will ensure you're capturing shoppers when they are ready to purchase furniture.
Sources:
2 Forbes