Even if you know it's time to upgrade your furniture ecommerce software, it can be difficult to know where to begin that transition.
At Blueport Commerce, we understand upgrading your furniture ecommerce platform is no simple task — it can be time-consuming and overwhelming.
But the rewards of upgrading are worth it as you'll gain the tools to create better customer experiences, increase your sales, and improve your business overall.
In this post, we will take you through the steps of making an informed furniture ecommerce software decision:
Step 1: Understand the Current State of Ecommerce Software
You already know it's time to upgrade your furniture ecommerce software — but let's cover some basics first!
What Is Furniture Ecommerce Software?
Furniture ecommerce software empowers companies to market and sell their products online, including creating custom content, offering promotions, displaying products, and processing payments.
Enhanced capabilities include omnichannel experiences enabling your customers to shop online or in your brick and mortar stores and seamlessly switch between the two.
What Options Do I Have When Selecting a Furniture Ecommerce Software?
There are a number of furniture ecommerce software options to help improve your business. Here are three of the top furniture ecommerce market trends to consider:
Marketing tools to help you reach your ideal customers. This may include personalized graphics, landing pages made specifically for your customers' personas, locations, and more.
Merchandise visualization tools. In order to inspire your customers, you want them to be able to picture the furniture in their own spaces. Now, that's becoming easier to do through photographs, 360-degree viewers, augmented and virtual reality.
Customer convenience. Your customers want options, which is where omnichannel options become a must. If your customer wants to begin their shopping experience online and finish it in-store, it's crucial to give them a tool and experience to do this, especially in our current market.
While these are just a few of the options you'll have when selecting the ecommerce software that's right for your business, they begin to provide an insight into the current options in the market.
But not all ecommerce software is created equally. Not all software you see will have these features all in one place — that's where we come in.
What Is the Blueport Commerce Ecommerce Platform?
Blueport is the ecommerce platform for the rest of retail — it's made for those of you who go beyond selling simple online products to provide in-depth online experiences for your customers who want to purchase big-ticket items like furniture online.
We're here to help you build a better online shopping experience and help you increase sales online and in your stores. Our platform features:
More out-of-the-box furniture features than any other platform.
Advanced omnichannel technologies.
Custom website design tools.
Powerful site management tools designed specifically for furniture ecommerce.
Leading personalization and recommendation features powered by machine learning.
You face a number of unique challenges as a furniture retailer, which means you need a platform that knows how to handle them. In addition to everything that's already built into the platform, we source, integrate, and maintain leading ecommerce plugins, so you can use top technologies on day one without the hassle or additional cost.
Step 2: Understand Why You're Upgrading Your Furniture Ecommerce Software
You likely have specific reasons for wanting to upgrade your furniture ecommerce software. Here are some considerations to make when deciding if it's time to upgrade:
What are the pain points preventing me from my goals? If your ecommerce software is preventing you from reaching your objectives, it's only going to become increasingly difficult as the market rapidly evolves and consumer expectations only get higher.
Can I reduce my overhead? While managing some of the ecommerce software features in-house may be feasible for a time, there often comes a point where it creates unnecessary overhead for your business.
Is my current software future-proof? If not, it's time to upgrade. The ecommerce industry is constantly updating, so you need software that helps you keep up with it.
Once you've taken these factors into consideration, it's time to think about what you want to achieve with your new furniture ecommerce software capabilities once you upgrade.
Step 3: Understand the Goals You Want To Achieve
While there are endless possibilities when it comes to creating incredible experiences for your customers, increasing your sales, and utilizing the tools found in furniture ecommerce systems, here are some of the most common:
Grow Your Ecommerce Sales
As with any business, one of your biggest goals is to grow your sales — and ecommerce is a great way to do that. Customers aren't just looking to make small purchases online anymore; they're ready for large furniture purchases and seamless communication without ever leaving their homes.
The Blueport ecommerce platform is built for big-ticket retail categories like furniture, ensuring a fast and efficient launch of your best-in-class website, seamlessly integrated with your systems, and completely in sync with your business.
You can also help your customers easily find products with powerful search capabilities, including custom filters and sorting, customized landing pages, and integrated promotional messaging.
For example, one tool you can utilize to increase conversions is customer reviews on your merchandise. According to Power Reviews, "displaying ratings and reviews on product pages is proven to lift conversions by up to 115%."
With tools that allow you to merchandise your product, market to your ideal audience, and create promotions that align with your stores, you can reach your customers where they are to create the best ecommerce experience for them.
Promote In-Store Purchases and Showcase Your Brand With Omnichannel-First Technology
Simultaneously running an ecommerce store and a brick-and-mortar store can be difficult, but it doesn't have to be. Our mobile-optimized platform ensures your website engages shoppers wherever and whenever they shop, driving results online and in your stores.
These tools also give your customers the power to begin their shopping journey online — where most people begin their research anyway — and then finish their purchase in-store with a designer or salesperson.
Stay Agile and Secure With the Cloud
With more and more ecommerce retailers entering the market every day, it's important for your business to remain innovative, utilize new technologies, and make the most of your ecommerce software tools.
Blueport continuously provides new furniture features on a secure, stable Cloud platform that saves you the cost, risk, and complications of developing and hosting your own website.
It's critical to utilize a solution that features continuous innovation with no costly upgrade cycles so you can have the freedom to utilize new features and grow your business.
Never Miss an Opportunity
Without seamless communication tools, an integrated omnichannel solution, and similar features, you have to worry about missing out on guest interactions and — ultimately — sales.
The furniture ecommerce software you decide to use should have one goal in mind: to provide you the tools you need to create better experiences for your shoppers and help you improve your business overall. That's why we find it crucial for you to never miss an opportunity.
With tools including OneView, a patented technology that bridges the digital gap between online and in-store shopping for big-ticket items, you can ensure your salespeople are accurately attributed and compensated for their work.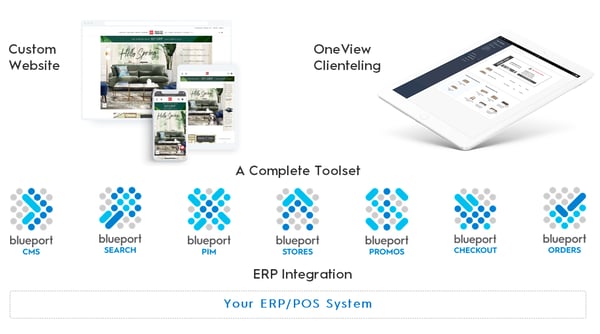 Step 4: Decide What Features You Need To Reach Your Goals
The furniture ecommerce software you decide to purchase and utilize for your company should be one that consists of everything you need. Features you should consider include:
Branding and marketing tools, including the ability to create content based on personas and geography, landing pages based on search criteria, and more.
Merchandising collection tools that allow the customer to shop an entire room of products, view and understand product detail, see personalized and AI search recommendations, and more.
Capabilities to create an omnichannel experience that includes appointment setting, seamless communication with your team, and the ability to finish online shopping in-store (and vice versa).
Content that can be based on a customer's location and local store, including landing pages, their overall furniture selection, sale prices and financing options, delivery times, and more.
Infrastructure and testing tools, including ADA and PCI compliance tools, production site monitoring, a future-proof Cloud-native technology stack, automated testing, and more.
With customizable furniture features, on-demand ecommerce expertise, and continuous innovation, you'll empower your shoppers to move seamlessly between channels and in return, drive furniture sales online and in your stores.
Utilize our furniture ecommerce punch list to ensure you know exactly what you need out of your system.
Step 5: Purchase the Best Ecommerce Platform for Furniture Retail
Finally, it's time to make a decision and purchase the best ecommerce furniture software for your business.
With a more efficient online furniture shopping experience, you can grow your sales online and in-store. Through first impressions, browsing and searching, the selection process, interacting with customers, executing the purchase, and meeting their expectations while they await their order, you can foster an incredible customer experience that creates loyalty, referrals, and more for your omnichannel furniture business. In short, our comprehensive solution was created for your unique challenges.
Ready to get started? Contact us today to find out how we can help you accelerate your ecommerce sales and your business's omnichannel evolution!