Two weeks ago, I attended Shoptalk, a two-year old gathering that bills itself as "The NextGen Commerce Event." With over 5,600 attendees and speakers from every ecommerce and retail power player, Shoptalk lived up to its hype.
At Blueport, we attend these types of events regularly to evaluate leading technology companies that we can potentially plug in to our platform. We also spend time listening to speakers, attending panels, and talking to our peers to understand what is happening on the leading edge of ecommerce and omnichannel retail.

Mobile Commerce is on Retailers' Minds
At Shoptalk, some of the most impactful conversations I had concerned mobile commerce. And in 2017, the mobile commerce conversation is as much about using mobile to drive store traffic and sales as it is about generating orders on a mobile device. Forrester Research is recognizing this as well and estimates that mobile devices impact 30% of all sales in stores.1
The challenge for many retailers, however, is showing good ROI on their mobile commerce investment. Jose Nino, VP of Ecommerce and Digital Marketing at Perry Ellis, noted that Google does not discount cost-per-click on mobile-targeted search ads, even though (according to what we see across the Blueport Platform) mobile devices normally convert at 1/3 the rate of desktop conversions. Add to that the challenge of measuring store sales driven by mobile devices, and retailers find themselves in a quandary.
How to Prove Benefits of Mobile Investments
Blueport recommends measuring key shopping activity on your site as an indicator of whether your digital marketing campaigns are driving likely store activity. If your paid search campaign is consistently getting shoppers to add items to a cart, there's a good chance they are also going to your stores to check those items out. New tools from Google and other AdTech companies that attribute store visits to digital marketing campaigns can also help to measure the store impact.
Rob Schmults, SVP of Ecommerce at Talbots, also encouraged retailers to focus on overall growth of their online business, both desktop and mobile, as the key to justifying mobile commerce investment. If you're spending more on mobile and you're growing ecommerce overall, it's much easier to make the case for mobile as part of your omnichannel marketing mix.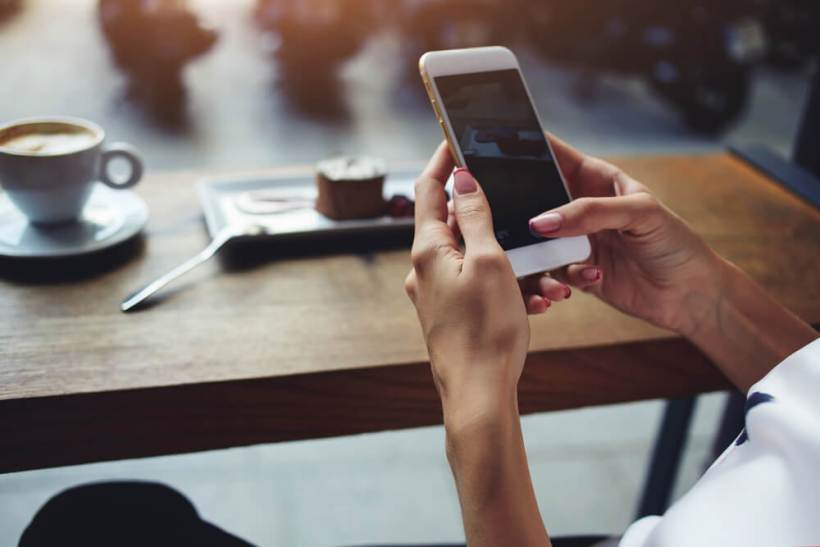 Do Retailers Need a Mobile App?
So, given all this mobile commerce talk, do you need a mobile app? Great question!
According to Forrester, consumers spend 78% of their mobile usage time in apps. But before you run out and start building an app, keep in mind that 84% of that time is spent in only 5 apps and half of that time in just 1 app, most likely a Facebook or Google app.2
As for retailers, their apps only get 5% of mobile usage time (sad trombone).
Retailers thinking about building an app should consider what unique shopping experience they can deliver better on an app than on a responsive ecommerce site. For Amazon, the app delivers the Amazon Prime experience. For Starbucks, the app delivers the Starbucks card and all the loyalty benefits and "gamification" that goes along with it.
For most retailers, the best use of time and money is often on optimizing their ecommerce site for mobile and making sure that shoppers find the best experience possible through their browser. Responsive design is an excellent place to start.
One exception in the furniture and home décor space is Houzz. Houzz has 13M home remodeling and design images that you can search across its platform as well as 1.5M professionals who are ready to help remodel your home. The Houzz app includes Sketch, an augmented realty experience that allows app users to drop any of Houzz's 8M shoppable items into their homes.
Since my wife and I are in full redecorating mode right now, I used the app to check out new floor lamps for my living room. The shopping experience was a little clunky, but the potential is certainly there for the app to become a leading ideation tool for the home.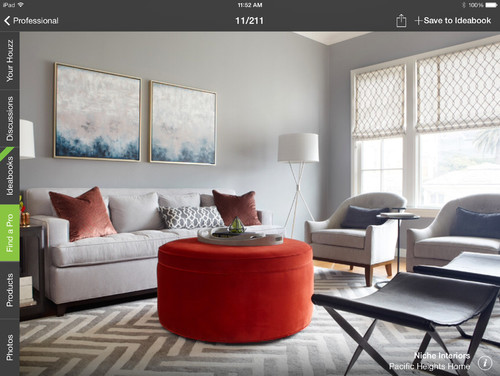 I left Shoptalk even more enthused about mobile commerce than when I arrived. Mobile is increasingly seen as a key companion to the store shopping experience. At Blueport Commerce, we've been thinking about mobile this way for a while. We've got the right tools in our platform –
responsive design
,
localization
, and product presentation to name a few – to make sure furniture retailers can capitalize on the mobile commerce opportunity.
1 US Cross-Channel Retail Sales Forecast: 2014-2018, Sucharita Mulpuru, Forrester Research.
2 Adopt an App+ Strategy, Julie Ask, Forrester Research