With much of the country experiencing atypical soggy, cool weather this past holiday weekend, it wasn't quite the "summer kickoff" most had hoped for. Unless – that is – you were one of the big-ticket brick-and-mortar retailers on the Blueport Platform who enjoyed quite the jumpstart to summer sales. While some were trading in their beach chairs and coolers for umbrellas and raincoats this weekend, an impressive crowd was shopping for – bet you couldn't guess it – sofas!
Memorial Day Weekend 2018 sales increased 45% year-over-year among U.S. retailers on the Blueport Commerce Platform! This year's increase in revenue was driven by an equally strong increase in conversion – up 44% over Memorial Day Weekend last year.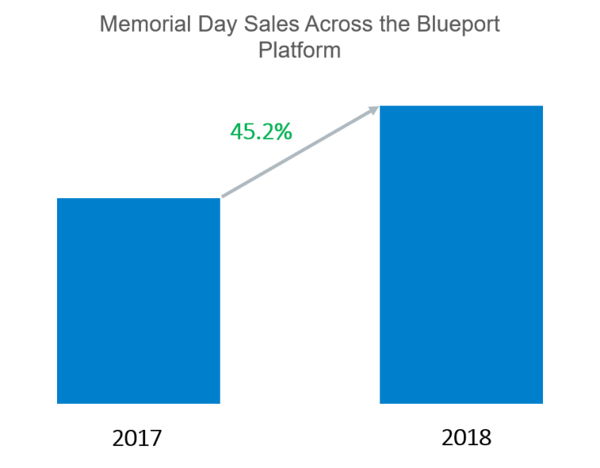 A quick ecommerce 101 refresher: maintaining conversion during peak holiday weekends is a challenge. Many retailers will up their advertising game to drive more traffic to their site in hopes of driving more sales. Often, those visits don't convert to orders as efficiently as when traffic is at a normal level. What we saw happen over MDW on the Blueport Platform was quite the opposite. As traffic on our client's sites increased, the rate of orders placed increased by nearly 82% from last year.
What does this tell us? For one, Blueport retailers ran compelling offers, showcased the best of the best products on their site, and drove the right kind of traffic through digital marketing. Secondly, increased conversion indicates the success and power of the ecommerce technology powering our retailers' sites. A platform that makes it easy for customers to find what they're looking for and prominently conveys savings, price, and availability will supercharge a retailer's already strong promotions.
Many retailers on the Blueport Platform kicked off their Memorial Day sales ahead of the weekend, allowing customers to get a head start on shopping and an extended weekend of savings. Unleashing some of their strongest offers, retailers ran promotions such as extended financing and % savings with no minimum purchase required.
Here are a few more Memorial Day Weekend 2018 Fun Facts across the Blueport Platform:
Across the Blueport Platform, shoppers purchased 57% more items than they did the same weekend last year
While sales were strong throughout the weekend, Monday came out as the strongest sales day by a long shot. Promotional urgency messaging on Monday encouraged shoppers to finalize the sale, leading to an increase in revenue that day.
Top selling items included: sofas, sectionals, and bedroom furniture.
As we've seen in holidays past, mobile share of revenue continues to grow. Mobile traffic increased 35% year-over-year across US retailers on the platform, and mobile revenue increased 67%.
---
While the weather seems to be slowly inching towards summer, Memorial Day Weekend was a hot one for Blueport client sales. We're ecstatic with the performance over the holiday weekend and are fortunate to partner with leading furniture retailers across the US. If you're not happy with your furniture retail site's performance over Memorial Day Weekend, give us a call today for a free diagnostic of your site.