At Blueport, we've always had a theory that lifestyle imagery, or images of products in a room, is critical to the online purchasing process. Lifestyle imagery allows shoppers to conceptualize the product in their home, providing critical aspects difficult to convey with text or silhouetted image, including scale, size, function, style, material detail, and color.
Recently, the Product Presentation Team at Blueport Commerce set out to understand exactly how impactful lifestyle imagery is to the buying process and in turn, sales.
What is Lifestyle Imagery?
Lifestyle imagery is an image on a product detail page that showcases the product in a true-to-life setting. These types of images are often included in addition to product shots that show the product without a background. Lifestyle imagery differs from editorial imagery in that it is styled with minimal props in order to truly highlight the product being sold. While editorial imagery, with heavier styling and focus on branding and aesthetics, can be integral to a retailer's merchandising and marketing strategies to attract customers and drive traffic, lifestyle imagery is usually preferred on the product page.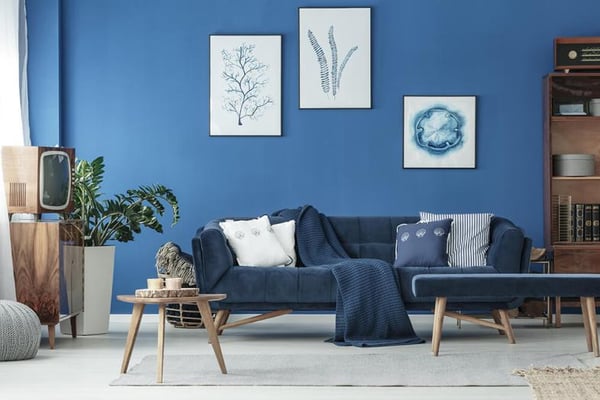 Imagery is merely one factor that can impact a customer's buying decision. As such, Blueport attempted to control these factors, tracking significant changes in conversion and other performance indicators to understand whether or not there is a correlation between the presence of lifestyle imagery and a customer's decision to purchase that product.
Focusing on furniture over appliances and electronics, we looked at several categories to see if there is an impact and whether the influence differs across product types. Controlling for known factors that impact sales (timing and product availability) and some theorized factors (best-sellers, visibility, color, and style), the evidence was striking: all metrics of success increased when a lifestyle image was present on a product detail page compared to products without lifestyle imagery.
Additionally, we found that the more lifestyle imagery available on a product detail page, the higher the revenue per product view. Products were divided into three buckets – no lifestyle images, one lifestyle image, and two or more lifestyle images.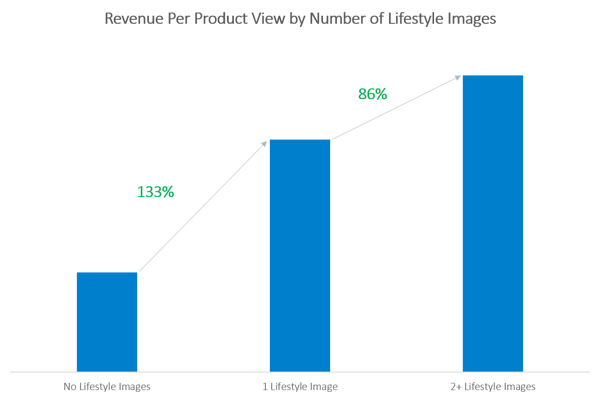 We surmise that lifestyle imagery garners excitement that encourages people to purchase online. This allows the customer to visualize what a piece of furniture could look like in their home, especially when dimensions and product information can be extensive or confusing for larger pieces. Lifestyle imagery also provides shoppers with inspiration and style ideas.
Recognizing there is an increased cost behind shooting lifestyle photography, here are two low-cost solutions to expand the number of lifestyle images available for products on your site:
1. Color correct existing imagery:
If a product with additional color variations is the only one with a lifestyle image, that image can be color corrected to match other colors. Below, the teal couch was shot in a studio, while the tan was created from that image.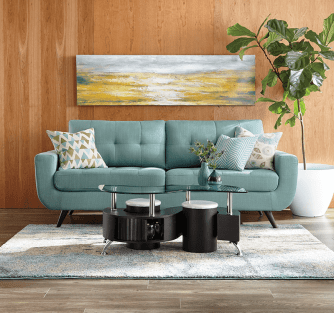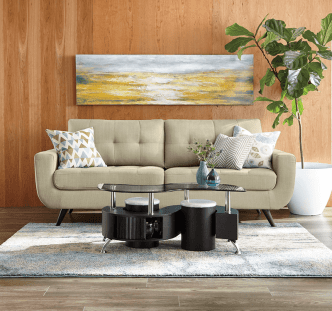 2. Shoot empty sets to create a library of lifestyle templates:
Product imagery can be dropped into "room shot templates" to create realistic spaces. While this option requires initial overhead in establishing the template library, there is minimal ongoing work once they are created.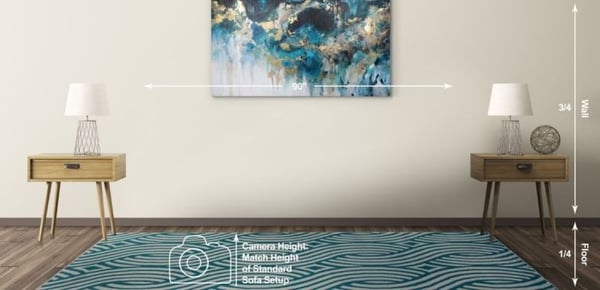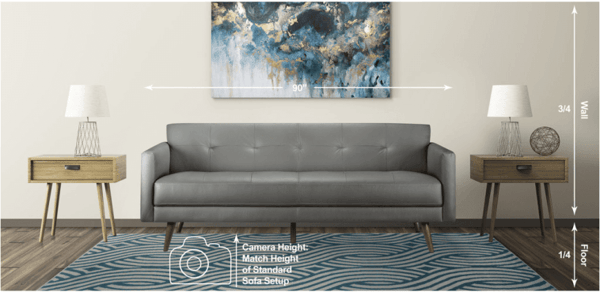 Interested in learning more about your online product catalog? Blueport Commerce can provide the resources and expertise needed to give your shoppers a fully loaded online catalog. Give us a call today!