The Future Of The Furniture Industry
By Carl Prindle May 18, 2017 5:40:56 AM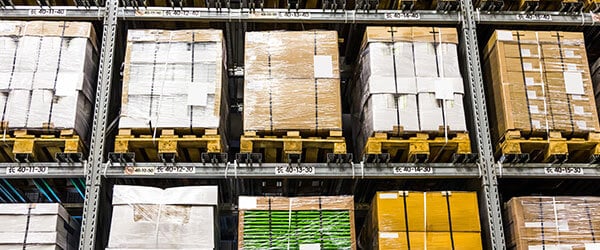 The past few weeks have been a frenzy, as favorable reports by Wayfair and countermoves by Amazon have prompted a widening group of analysts and interested onlookers to debate a topic that we in the furniture industry have been discussing for some time – what will be the best way to sell furniture in the future?
I've enjoyed some fascinating discussions about these ongoing developments, including a conference call with Seth Basham, a Hardlines Equity Research Analyst at Wedbush Securities regarding the future of furniture online.
Ahead of 1Q 2017 earnings releases, investors joined us to discuss key trends impacting the $275B home goods market, Wayfair, Amazon and the paramount importance of the brick-and-mortar channel to this category.
Here are a few of the topics we covered.
Ecommerce Eats Retail: Which Retail Categories Have Fallen First?
To understand furniture's trajectory online, it's important to put the category into the broader context of ecommerce's rapid inroads into brick-and-mortar retail.
Today, nearly 15% of all U.S. retail occurs online, if you exclude categories like cars and fuel. However, this average masks a wide variety of online penetration rates for different types of products. Some categories are now over 50% online (Music and Videos) while others are stuck at low single digit online penetration (Groceries).
To date, the driver of how fast a category has moved online has been how "Amazonable" the product is. With pure plays like Amazon making the aggressive moves in ecommerce, categories that fit their model well have been the first to fall.
How well does a category fit in an Amazon box? We think there are two dimensions you can use to quickly assess how "Amazonable" a product is:
Product Certainty: How well a product can be understood online
Distribution Efficiency: The ratio of product price to delivery cost
As an example, let's look at consumer electronics – a perfect fit for Amazon and ecommerce.
People can be fairly certain what they are buying when shopping consumer electronics online, thanks to known brands, model numbers, detailed feature comparisons, and a wealth of consumer and professional reviews.
Distribution efficiency is also good – Products are well packed, can be shipped via efficient carriers like UPS, and bring a lot of bang for the distribution buck, as the prices of consumer electronics relative to the space taken up in a warehouse and the expense of shipping are pretty high.
Take these two factors, and consumer electronics is a "top right" Amazonable category, in which close to 30% of all retail sales now happen online.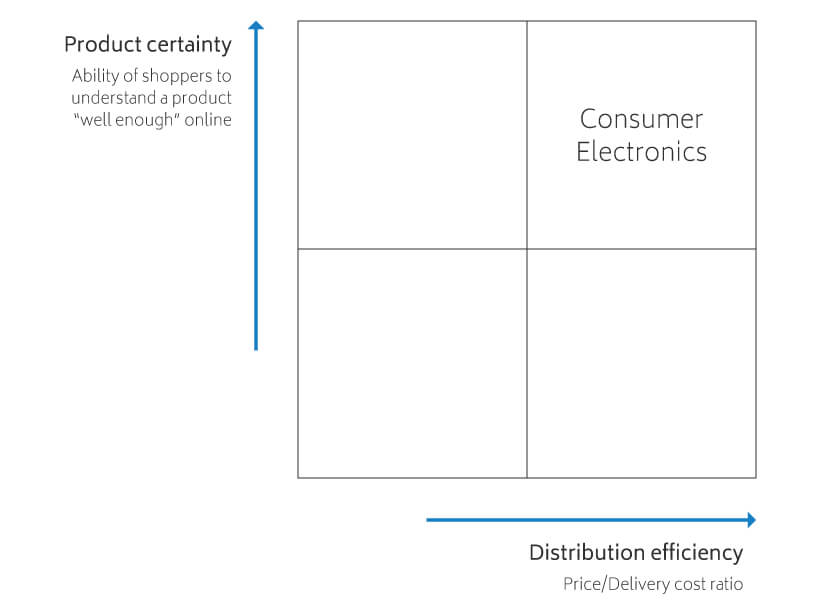 This is by no means a perfect framework, but if you think about the categories you buy on Amazon, or where brick-and-mortar retailers have most suffered, you're likely talking about "top right" categories.
The Home Goods Market
So, where does the $275B U.S. Home Goods market fit in this framework? Kind of in the middle, which isn't a particularly actionable finding, nor that interesting.
However, this market does get interesting when you break down this category into its two constituent components:
Décor, Kitchen, and Bath (UPSable items like lamps, occasional tables, mixers, or towel rods), a $150B-$175B market in the U.S.
Furniture (larger items like sofas, sectionals, queen bedroom sets), a $100B-$125B market in the U.S.
These two categories occupy very different positions when it comes to how Amazonable they are: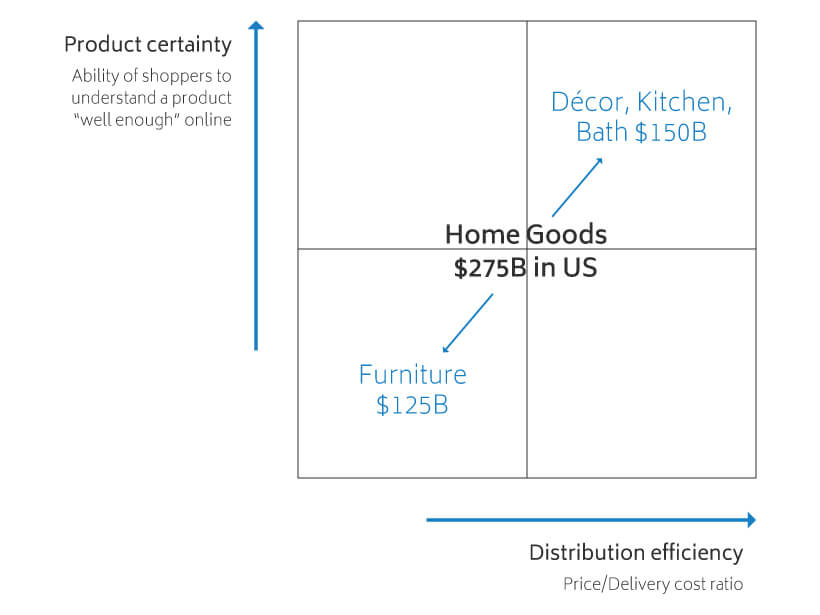 Décor, Kitchen, and Bath
Décor, Kitchen, and Bath performs extremely well online. With lower price points that reduce the "understand it well enough online" certainty hurdle plus the ease of shipping via UPS, online penetration for these items is believed to have risen to the low teens.
In this category, Wayfair is exceptional at using their vertical focus, data and analytics disciplines and strong foundational operations to dominate this segment online. Above all, they've got a phenomenal vendor network for these products. For these manufacturers, Wayfair fills a real need, providing distribution for vendors that in many cases are being squeezed out of a consolidating retail landscape.
That said, as a "top right category" there are a lot of players in online Décor, Kitchen, and Bath. With 75% of Wayfair's business able to be shipped in a UPS box, the company's main competition is ecommerce giants like Amazon and Overstock, big box stores like Target and Walmart, and specialty décor retailers like Williams-Sonoma and Crate and Barrel.
Wayfair has a huge head start in home décor online. But, this will be game the largest player wins —and there are many etailers and retailers in this scrum.
Furniture
Conversely, Wayfair's massive success has had little impact on brick-and-mortar furniture to date. When Wayfair sells a lamp, it has little impact on furniture retailers whose businesses are anchored by larger, pricier products like sofas and sectionals.
This is where the relative advantages of brick-and-mortar come into play. Furniture is a harder sell online— average order values often top $1,000, there are few meaningful brands and it's ridiculously expensive to ship unless/until you have massive local scale.
Between lack of product certainty and an upside-down price to logistics expense ratio, it's hard to get more "bottom left" than furniture. In the $125B furniture market, online furniture sales sit at a modest 5%-6% of retail.
In this quadrant, the game is just beginning.
Brick-and-Mortar's Emerging Power In The Furniture Vertical
Any number of recent investments and announcements speak to the importance of brick-and-mortar's role in selling furniture. Despite disruptors determined to take the wind from traditional retail's sails, the store channel remains essential in furniture retail.

Private equity players are pouring resources into strong brick-and-mortar businesses on a bet that their native advantages can be the foundation for game-changing omnichannel strategies. Recently, we've seen Bain invest in Bob's, Thomas H. Lee invest in Art Van, and Castle Island Partners invest in Boston Interiors.
Qualitatively, retailers have a head start in furniture:
They have trusted brands that generations of shoppers have used to furnish their homes
They have great furniture and stores in which to see it first hand
They have inexpensive white glove, in-home delivery as soon as same day
The product certainty and distribution efficiency of an omnichannel strategy moves furniture from a "bottom left" to a "top right" category online, when brick-and-mortar players are enabled with the right technology.
Perhaps in recognition of this fact, pure plays are looking to become more like stores when it comes to furniture. Amazon has announced their intention to open brick and mortar stores for furniture (++product certainty) as well as leverage the distribution of local retailers through a new local marketplace model (++distribution efficiency).
Similarly, Wayfair is investing heavily in AR and VR (++product certainty) and racing to build local delivery scale in the form of Castlegate (++distribution efficiency).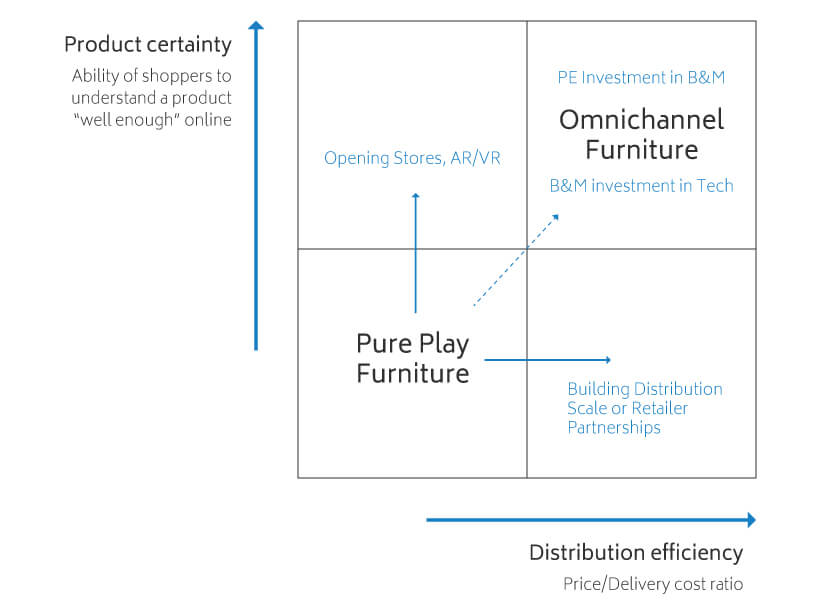 What To Watch For In Home Goods
For home décor, kitchen and bath: Look for Wayfair to continue to out-hustle others in this segment. And remember, this is a scale game – the acquisition of Wayfair by a multi-line player like Amazon or Walmart could be just around the corner.
For furniture: This one's a race, plain and simple. Traditional retailers have native omnichannel advantages that give them a head start, but are late to the ecommerce game. Pure plays have tremendous resources, but a lot of heavy lifting to do to replicate stores' native advantages.
---
As one of my favorite investors summed it up, Furniture retailers desperately need to retool, but have the advantage of riding the industry rails that already sell $125B of furniture a year. Pureplays need to rebuild the whole railroad.
Who gets it done first? Stay tuned.