According to Furniture|Today, 88% of furniture stores have a website, but only 30% of these are ecommerce enabled. Said another way, 74% of furniture retailers do not offer ecommerce – the basis of modern, omnichannel retail. For retailers who have yet to go online in a meaningful way, the ability to catch up becomes increasingly difficult over time. According to Business Insider, a retailer's likelihood of ecommerce success is directly correlated with the number of years they have been ecommerce-enabled*. In other words, just enabling ecommerce doesn't necessarily mean you'll see success online, it takes years of experience testing and learning how to sell online in order to see results.
In a big-ticket category like furniture, that learning curve becomes even larger for traditional players as ecommerce trends and, specifically, furniture shopping behavior evolves over time.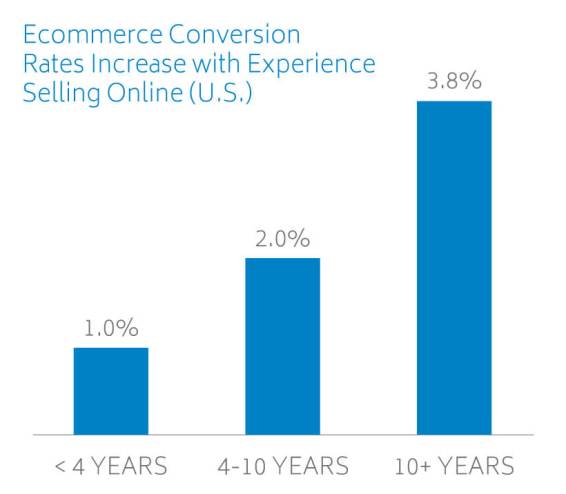 *Source: BI Intelligence The Future of Retail: 2014
Levin's Jumps Ahead of the Ecommerce Learning Curve
Despite these challenges, advancements in omnichannel technologies are making it easier than ever before for brick-and-mortar retailers to catch up. Levin's, for example – a powerful regional player in the Pittsburgh and Cleveland markets and #7 on Home Furnishing Business's The Power 50 – launched an ecommerce enabled website (levinfurniture.com), driving impressive results in less than three months since launch.
With a history dating back nearly 100 years and deep ties to their local community, Levin's is one of the most respected and established furniture retail brands in the industry. Matched with their showrooms, high-quality merchandise, and seamless delivery network, Levin's had all the key components to start selling furniture online. But, like many other traditional furniture retailers, Levin's faced significant challenges that delayed their investment in ecommerce—complex store systems, regional pricing, merchandising and delivery capabilities, limited resources on staff, and unfamiliarity with ecommerce, to name a few.
So, how did Levin's overcome these challenges?
In this post, we'll look at 3 factors that enabled Levin's to bypass the steep learning curve many furniture retailers face today and see instant success online, as well as benefits to their stores and brand.
#1 A Platform Designed to Sell Furniture Out of the Box
Despite substantial traffic to their existing site and the growing demand for furniture online, Levin's would not have been nearly as successful with a standard, generic ecommerce experience.
For retailers like Levin's, it is critical their ecommerce initiatives bridge the gap between their existing stores and an enhanced website in order to create a seamless omnichannel experience for their customers.
Levin's chose a furniture-specific platform that came with features designed to sell furniture and connect the online and in-store experience out of the box.
Powerful localization tools that ensure consistency across stores and web, predictive and faceted search based on the furniture shopping experience, and responsive design catered to the furniture shopping experience are just a few of the features Levin's had out-of-the-box to begin converting shoppers at launch.
And, with the agility of a cloud-hosted platform, Levinfurniture.com will continuously receive revenue-driving site enhancements on a two-week cycle, ensuring they never fall behind the ecommerce curve.
Levin's shoppers are presented with localized marketing, merchandising, pricing and inventory using geolocation technology:

Powerful search capabilities, including predictive search, custom filters, and sorting allow shoppers to easily browse Levin's beautiful, quality merchandise for purchase online or to help inform a visit to their local store:

Responsive design contributes to a full omnichannel experience, allowing customers to browse Levin's site on any device or browser. With over a quarter of revenue generated through mobile on Thanksgiving weekend, Levinfurniture.com's powerful mobile experience was a critical factor in helping them instantly capture mobile shoppers and drive conversion: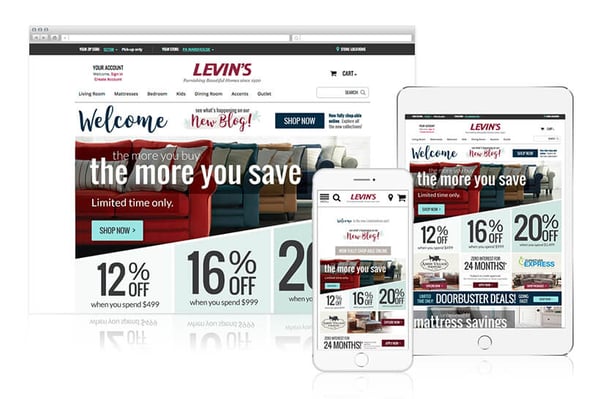 #2 Digital Marketing and Merchandising Expertise to Supplement Their Team
Running a successful ecommerce site is not just about the technology and tools – it's how you use those tools to run your ecommerce store – much like a brick-and-mortar store requires thoughtful planning, merchandising, and execution. For a retailer like Levin's who was not previously ecommerce enabled, resources and staffing for digital marketing and merchandising may not be readily available.
By partnering with Blueport, Levin's instead chose a scalable alternative to permanent staff, leveraging Blueport's ecommerce help services to get their site ready for launch and drive qualified traffic to the site once it went live.
Blueport's product presentation team helped create a beautiful digital catalog for Levinfurniture.com, taking raw product images to create a variety of detailed product images:

Blueport's Marketing Team developed SEO content to drive engagement and increase organic search traffic: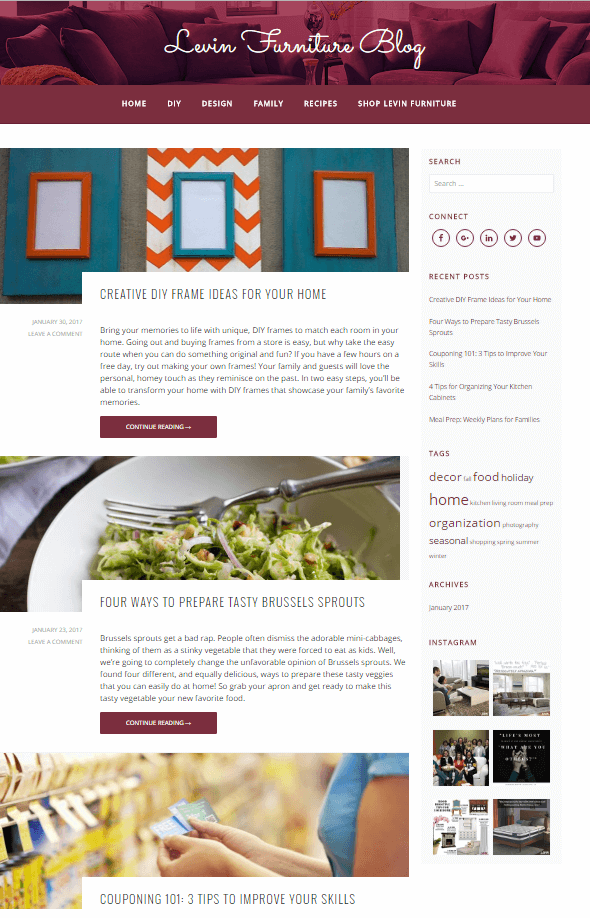 #3 Dedicated Ecommerce Expertise and Consultation
Selling furniture online is a unique and complex category. Success requires a significant amount of expertise in ecommerce strategy and the furniture industry. Levin's chose a full-service solution that provides them with an Ecommerce strategist, dedicated to preparing and providing guidance on operating their new ecommerce site.
Once Blueport's Technical Implementation team completed the system integration, the Ecommerce team stepped in to provide Levin's ongoing assistance in day-to-day site operations, as well as helping Levin's translate their offline strategy to an effective ecommerce strategy. Caroline Platkiewicz, Levin's Ecommerce Manager, describes how she brings ecommerce expertise to help retailers succeed online:
"As an Ecommerce Manager, I am responsible for driving website and in-store revenue for my platform clients (furniture retailers) while ensuring their overall satisfaction with Blueport's technology and services. With extensive ecommerce experience across all verticals, I bring ecommerce 'know-how' and advise our furniture retail clients on how to make the most of their ecommerce website to provide the best customer experience possible and generate revenue."

– Caroline Platkiewicz, Ecommerce Manager
---
With its cloud infrastructure and furniture focus, the Blueport Platform is the only solution that enables furniture retailers to quickly and efficiently launch flagship online stores. With a curated product roadmap based on extensive research in ecommerce trends as well as deep knowledge of the furniture vertical, the Blueport Platform includes a set of features and tools proven to drive furniture sales.
We're thrilled to have Levin's on the Blueport Platform, and are ecstatic to be an integral component of driving their omnichannel growth. If you're a furniture retailer looking to jump ahead of the ecommerce curve, talk to us today!