The Blue(re)port: 2018 Omnichannel Furniture Benchmarking is a must-read for Furniture Retailers. This report provides deep insights on the state of omnichannel furniture today, and, for the first time, assesses which retailers have made the biggest moves since last year's report (hint: it's Lovesac).
In previous blog posts as part of our Achieving Omnichannel Excellence series, we delved into the types of retailers we analyzed for the report and what omnichannel features were ranked as most valuable in a successful furniture ecommerce operation.
Today, we're taking a step back to examine the eight principal categories of features that impact omnichannel sales. Each category is mapped to phases in the shopping journey from engagement through paying for a purchase.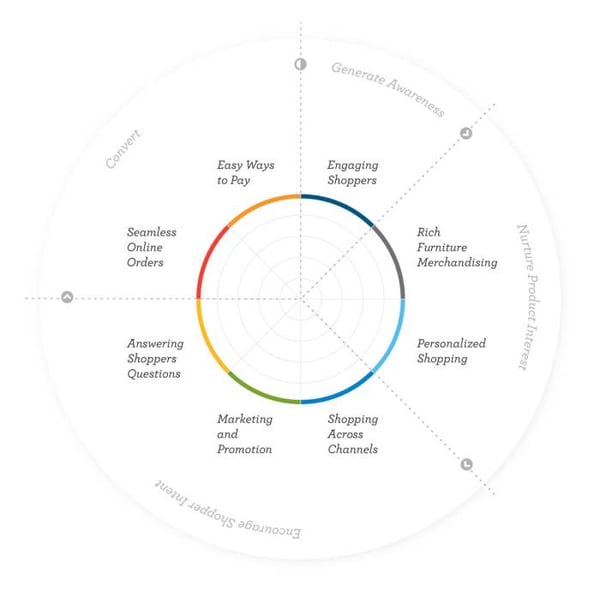 Engaging Shoppers
From the very beginning of the shopping experience, furniture shoppers look for features that inspire, inform and help to shape their ideas. Features such as Wishlists, Idea Boards, and Social Sharing give shoppers the ability to organize their search in a way that fits their needs. Retailers like West Elm and Wayfair lead the pack in this category, with inspirational features that draw in consumers early on in the buying cycle.
Rich Furniture Merchandising
Having a well-merchandised and easy-to-shop site is critically important when considering a big-ticket purchase like furniture. Features that help shoppers find products, such as Faceted Search, and features that highlight those key product features, like Zoom and Alternate Configurations, ultimately provide shoppers with confidence-building information that enables a purchase.
Personalized Shopping
Technology that delivers personalized content and products that resonate with individual shoppers plays a pivotal role in differentiating the shopping experience. Product Recommendations and Recently Viewed Products were the two features ranked as most important in this category, yet only 54% and 29% of retailers have these features, respectively.
Shopping Across Channels
When talking about omnichannel shopping, furniture is probably the most omnichannel category of them all. Considering the symbiotic relationship of brick-and-mortar stores and the ecommerce web store, there are an endless number of touchpoints a shopper interacts with that guide their final purchase. Having features that help bridge those gaps between channels, such as Mobile Optimization, Purchasing A Store Quote Online, and Geolocation truly puts some retailers ahead of the pack.
Marketing and Promotion
One of the most promotional categories out there, an effective furniture ecommerce site will offer shoppers the same promotions online that they do in stores. Finance Offers and Cart Promotions are only a few of the features in this category that help to make the transition from the in-store and online experience seamless, ultimately avoiding customer frustration and confusion.
Answering Shopper Questions
As mentioned earlier, bridging the gap between the in-store and online experience is vital. When a customer is in a store, they can rely on a knowledgeable salesperson to answer their questions. Online, a retailer must-have features like Real (not estimated) Delivery Dates and Product Comparison modules to satisfy customer inquiries.
Seamless Online Orders
It's not good enough anymore to have your website simply ecommerce enabled. Retailers must now consider features like Delivery Tracking and the Online Purchasing of Warranties if they want to compete. With a highly considered purchase like furniture, offering easy online ordering is non-negotiable.
Easy Ways to Pay
Removing friction and providing lots of options in the path to purchase is critical for a successful furniture retailer. Yet, many retailers struggle in this area beyond offering shoppers to Apply for Financing. To pull ahead in this category, other features like Pay with a Store Card or with Next Generation Payment Methods must be supported.
---
Looking for an ecommerce solution that offers a robust feature set within each of these eight categories, out of the box? Or perhaps an in-depth assessment of how your website performed against your specific competitors?
Blueport is the #1 ecommerce platform built specifically with furniture in mind. We eat, sleep and breathe furniture – just like you – and our platform has all of the must-have furniture features ready to go on day one. Contact us today to learn more or just to chat – we'd love to hear from you!